Zhou Jun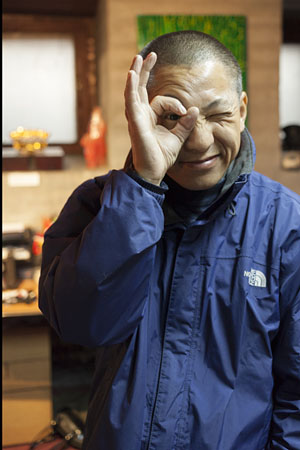 1965              Born in Nanjing
1990              Graduated from the Department of Photography at the Art School of Nanjing Normal
                      University
Solo Exhibitions
2012               Zhou Jun, Damien Minton Gallery, Sydney
2010               Red Reconstructs, Studio Rouge, Shanghai
                       The Red and the Black, Paris Beijing Photo Gallery, Paris
                       Red Hot and Grey, Louis Vuitton, Hong Kong
2008              Bird's Nest Project, Rossi & Rossi, London
2007              Zhou Jun, Red Gate Gallery
2006              Red Wrap, Studio Rouge, Shanghai 
                       Red Future, 798 Red T Space, Beijing
Group Exhibitions
2017                Red Gate on the Move, Red Gate Gallery, Beijing
2014                ST.ART – International exhibition of the Chinese Contemporary Ceramic Art,
                        Today Art Museum, Beijing
2012               Two Generations – 20 Years of Chinese Contemporary Art, 2012 Australian Tour:
                       City of Sydney Chinese New Year; Manning Regional Gallery;
                       Damien Minton Gallery; University of Newcastle Gallery;
                       Melbourne International Fine Arts (MiFA); Linton & Kay, Perth
                       Beijing Bao - Six Chinese Photomedia Artists, UQ Art Museum, Queensland
2011                20 Years – Two Generations of Artists at Red Gate, island6 Art Center, Shanghai
                       20 Years – Two Generations of Artists at Red Gate, Red Gate Gallery
2009              China Form, Red Gate Gallery
2008              A Different Take, Red Gate Gallery
                       Red Gate Stars, Red Gate Gallery
2006              From China, Chinese Artist residency at the 798 / Red Gate Gallery Beijing
                       Size Decides Attitude, First "5 × 7″ Picture-Taking Biennale Project Pingyao
                       Ziboy Photography Exhibition, Dimension Art Center, Beijing
1992               Zhou Jun Photography Invitational Exhibition, Nanjing Normal University
The three decades of development China is experiencing – building to a crescendo with the Olympics – are unparalleled in history. The colour red, which I use to highlight specific parts of the photograph, can elicit different responses in people from different countries or cultures – at times, it can even have opposite meanings for people. I want my work to be interpreted differently by people depending on their response to the symbolic meaning of red. In this sense, the work has the potential to reveal international perspectives to common subject matter.
Zhou Jun