Chen Linggang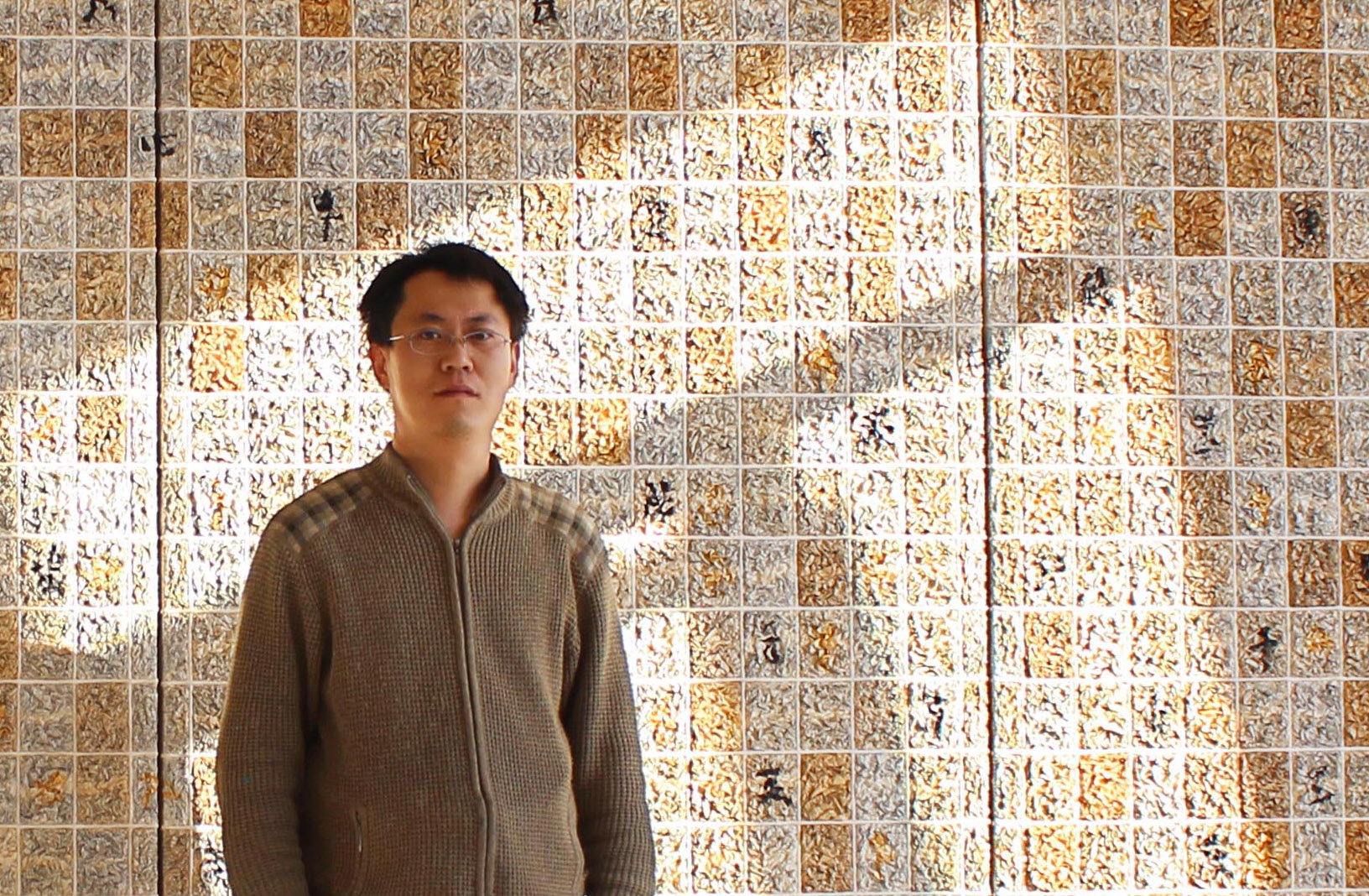 During the year of 2007 to 2008, I started to create some works of my mine besides working. And I thought it was easy, and believed that I could paint really well, a lot better than the others. 
Not soon after, I realised that this was not an easy task. Initially, you would have to establish a mature idea (of what you were doing), and then, it is even harder to find a suitable way to accurately express your idea. 
Hence, during that time, I created a series of drastically dissimilar works, among which there was we oil on canvas, mixed media, etc. In an earlier phase, I had drawn the scenarios at the bus station, mainly about the people waiting there, or rushing in and out of the buses. Afterwards, I moved on to Childhood Memory series, for example, I would recreate some toys and model figures from my childhood, and glueing or trussing them on canvas. At the time, I thought they were adorable, and it was fun to create them. There it went, the Game Series. 
My major transition happened in 2008. I quitted my job and put all my time of creating works. That year was a diving point (of my life path). At some point, I was organising some photo document; all of a sudden, an idea came to my mind — "what will it look if I glue all the photos on canvas?" On the same night, I did so; however, it turned out to be a bit plain. I then placed old newspaper around the photos, created a series of works - Lost Series, where photos are divided into squares by white strings made out of newspaper. 
Later on, the squared-boxed techniques continued until today, which had become my signature presentation, even the works after 2008 inherited this method as well, namely Heritage Series and Reading Series.
Chen Linggang  November, 2017, Beijing
1978

Born in Jilin

2000

Graduated from Jilin Forestry University, Environmental Art Dep.

Present

Currently lives and works in Beijing

 

 

Solo Exhibitions

 

2016

On Reading and Writing, Red Gate Gallery, Beijing

 

Resonance of History - Dual Exhibition by Chen Linggang and Pang Yun,

Art + Shanghai Gallery, Singapore

2014

Between the Lines-reading, Chen Linggang and Liang Weiyuan, Art +

Shanghai Gallery, Shanghai

2013

On the Paper, Chen Linggang Solo Exhibition, SiTouAiRanSe, Beijing

2011

Heritage: Chen Linggang Solo Exhibition, Studio Rouge, Shanghai

2009

History on Paper - Chen Linggang, 798 Jindu Art Center, Beijing

 

 

Group Exhibitions

 

2017

Red Gate on the Move, Red Gate Gallery, Beijing

 

Thunderbolt SURGE Art Summer POP-UP, Red Gate Gallery, Beijing

2016

WHIPLASH!!! SURGE Art 10th Anniversary, Red Gate Gallery, Beijing

2015

SURGE Art - Out of the Box! Artist Group Exhibition, Red Gate Gallery

 

Formosa Art Show 2015, Rhythm Gallery, Taibei

 

The 3rd V-age Contemporary Art Exhibition, Tree Museum, Beijing

 

Poly 10th Anniversary Contemporary Art Fair, Beijing

2014

Youth・ Passion - National Young Artist Exhibition, Beijing

2013

Art Across the City, Guanxiang Art Gallery, Taipei

 

Red Hot, Red Gate Gallery, Beijing

 

On Paper - Supreme, Jiuceng Art Museum, Beijing

2012

Kingroad Gallery, London, U.K

2011

Spicy Asia - Art Exhibition, HF Contemporary Art, Berlin

2010

Maria Pestana Art Gallery, Madrid, Spain
My works are all composed within grids of tiny squares, and although their external form might appear very similar, the content of each square is unique, whether it the person, building, or city; or it represents a second, a day, or a year… the squares can be a slice of paper, a page from the book, a paragraph of history, etc. They keep repeating themselves and becoming individually co-independent. The entire entity is also composed of separated entities, where they lead and follow each other. Within those works, there is a constantly changing rhythm following from inside out. It does not only bring more meanings to the works, also making me reflect on cultures and self-identity. 
In my work, I abstracted the figures of objects and fabricate a sense of vagueness and uncertainty. Meanwhile, I thought to myself, isn't everything, in reality, all come with uncertainties? Or is this the uncertainty coming from my shallow understanding to those matters. Hence the notion spread to my doubts towards culture and heritages, do we really comprehend them fully?
With an eager of exploring culture and history, I connected my works with present and the past, as well as some notions and confusions during my exploration. The doubts baffled my belief of the truth behind all heritages. Yet, without the questions, I would not be so enthusiastic about seeking for the veracity, and what's more, the deeper significance behind all histories. In the meantime, the journey of searching became more vivid and flexible, and it is fun. 
Growing up in the generation of Chinese Reformation, we are left with umpteen amount of marks of time. I am not aware of how many of us are out there, nor do I know how much of my feelings can in line with my generation. Accompanied by the waves of reformation, while we are trying the world, we are in fact being changed by all internal and external forces of culture. What I am trying to achieve is no more than being in quest of my true self in this unpredictable reality. 
Whenever I am trying to express the world in a figurative way, I realise that it is blurred. I cannot just use one number, one word, or one image to communicate. It is uncertain without a clear direction of where it is pointing. Yet, there is an invisible spirit guiding me to feel, to think.