Han Qing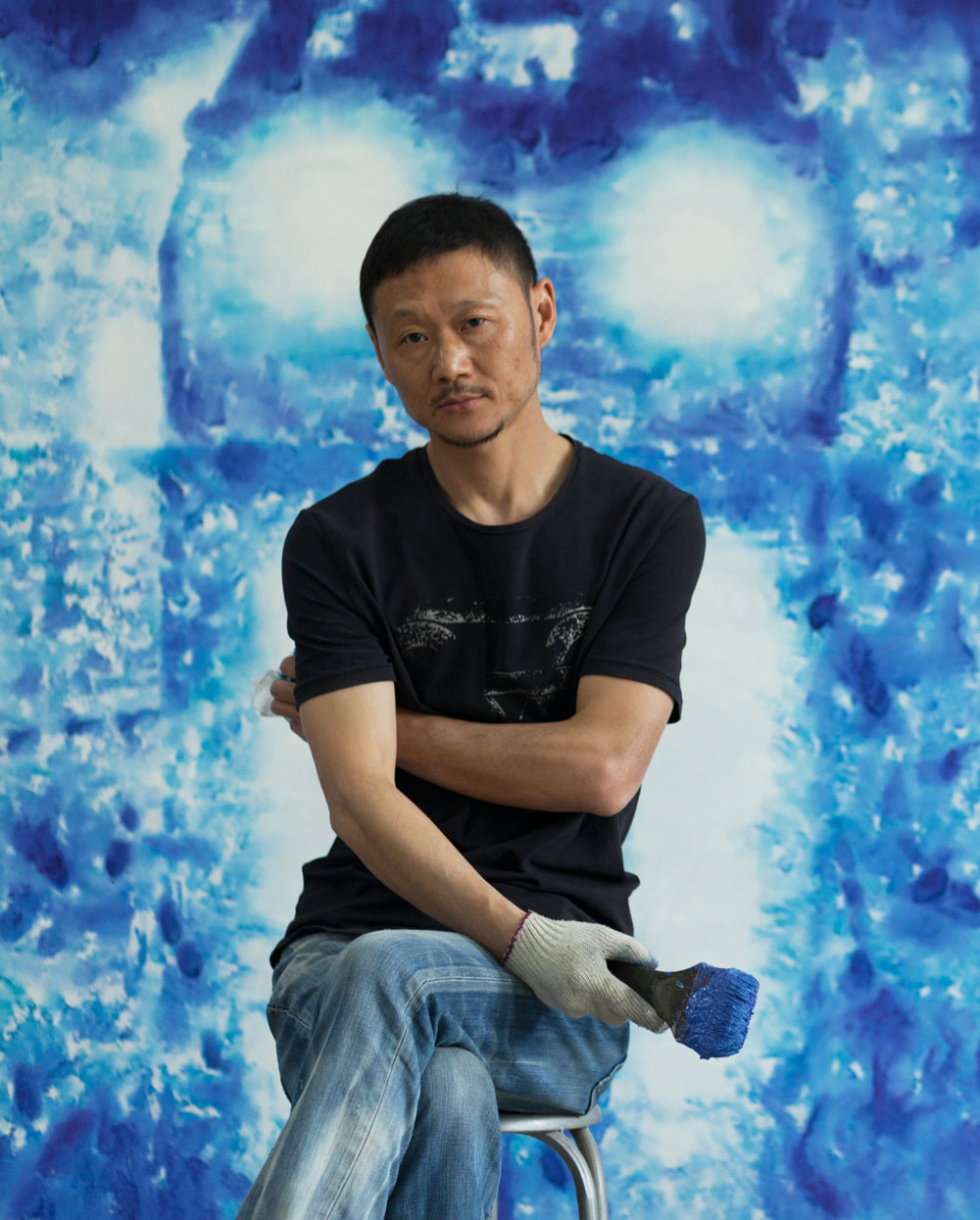 -------------------------
At Night
Venue: Red Gate Gallery
Exhibition Dates: March, 2015
Essay: By Night — Manifesting Reality
— Some thoughts on Han Qing's oil painting
Han Qing's work is filled with a kind of sadness, like Han Qing himself. Han Qing is not an outgoing person who makes a strong first impression. You even feel a little worried in talking with him, because his Mandarin is not very standard, and he speaks very slowly, so you must first adapt for a period of time. Moreover his thoughts tend to jump around, and sometimes his replies to your questions leave you far from what you want to know. His thinking is similar to that of a poet. Actually he also made music originally. Perhaps the fluidity of music causes his thoughts to grow unstable. Still, this expression has not led him to state the meaning of his works clearly.
Han Qing started to paint the evening light after 2000. He attempted to use light that borrows the chilly night to confuse, to dazzle, to express loss, confusion, and the loneliness of contemporary existence. By day, we are a group of people; only by night do we become ourselves. By day we camouflage ourselves; only by night do we liberate ourselves. By day we pretend to be sanctimonious angels; by night we indulge fervour and desire with the devil. The night is a paradise of desire, a place where our innermost wants to arrive. But the night is also a hell in which we perish, and give up to lasciviousness and luxury. If daytime is the high tide of life, then night is when we start to appreciate the true meaning of life. When the sun goes down, the streetlamps start to shine. These man-made lights have no natural rays. In this imagined landscape, we start to reconsider the circumstances of daytime. What do we think about at this time? When you walk on the spacious street after indulgence and fervour, the street light elongates your form, the far automobile headlights stab your eyes, and your shadow could extend forever. You attempt to see some truth clearly: who was walking in that far-off place, and what did happen?
Han Qing's works expose the human nature and social reality through renderings of the evening light. Perhaps daytime is not our real life, but night isour real life.
Zhao Shulin
In terms of painterly language, Han Qing has used rosy reds, perhaps to conceal pornographic and carnal desire, or to convey the real lives of contemporary people. What occurs in our real lives is the real situation of every day in which the position of the urbanite is ambiguous, chilly and at loose ends. Han Qing's oil painting relies on different techniques than those of other artists. Many artists start from the deep colors as they paint, but Han Qing starts from the brightest, lightest colors, and when the painting is nearly complete, he does not make any revisions. Like pencil sketches, his pictures develop bit by bit. His painting is very thin and the paint is very watery. This method can only be completed very rapidly. Perhaps it reflects his character; his life is nearly consumed in fervid indulgence. The life which hides by day and comes out at night sets the parameters for his work. What does he think in the illuminated night, as he stands in the street corner, as the automobile headlights hit him from the side? What do these works tell us? Do we have feelings like his? Are we also lonely and confused? What place do we have to move towards?
Zhao Shulin
March, 2006, Beijing
-------------------------
| | |
| --- | --- |
| 1968 | Born in Sichuan Province |
| 1992     | Graduated from Sichuan Institute of Fine Arts, Chongqing |
| Present:   | Lives and works in Beijing and Chengdu |
Solo Exhibition
2015    

Tales of a Director, Red Gate

2014

The BigCi Environmental Award 2014, Greater Blue Mountains, Australia

2010

Han Qing New painting, Red Gate Gallery

2006

At Night, Red Gate Gallery

 

Night Jazz, Studio Rouge, Shanghai

2004

Night Trip, Chengdu Art, Chengdu

 

Under the Light, Orient Foundation, Macau

2002

Street Light, Canvas International Art, Amsterdam

2001

Subject of Night, Antelope Art Gallery, Chengdu
Group Exhibitions
| | | |
| --- | --- | --- |
| 2017 |   | Red Gate on the Move, Red Gate Gallery, Beijing |
|   |   | The Grand Opening of the Marengo Gallery, Pasadena, USA |
| 2016 |   | Look for a Bird, BigCi, Australia |
|   |   | My Living Room - Red Gate Gallery 25th Anniversary, Red Gate Gallery, Beijing |
| 2015 |   | Beijing, Beijing – Chinese Contemporary Art Exhibition, Vermilion Art, Australia |
| 2014 |   | Double Track – China & South Korea Artists Communication Exhibition, |
|   |   | Shanghai 800 Art Museum, Shanghai |
| 2012 |               | Made in China, Contemporary Chinese Artist Luciano Benetton Collection, Milan |
|         |   | Two Generations - 20 Years of Chinese Contemporary Art 2012 Australian Tour: City of Sydney Chinese New Year; Manning Regional Gallery; Damien Minton Gallery; University of Newcastle Gallery; Melbourne International Fine Arts (MiFA); Linton & Kay, Perth |
| 2011 |   | 20 Years - Two Generations of Artists at Red Gate, Island6 Art Center, Shanghai |
|   |   | 20 Years - Two Generations of Artists at Red Gate, Red Gate Gallery |
|   |   | Red Gate Launch Pad – Celebrating 10 Years of Artists in Residence, Red Gate Gallery, Beijing |
| 2010 |   | HK10 Art Fair, Hongkong |
|   |   | Head On, Red Gate Gallery |
| 2009 |   | 30 Degrees, Red Gate Gallery |
|   |   | 30 Degrees, Studio Rouge, Shanghai |
|   |   | China Form, Red Gate Gallery |
| 2008 |   | Art Beijing, Beijing |
|   |   | Red Gate Stars, Red Gate Gallery |
|   |   | China Landscape, Jang Art Gallery,Beijing |
|   |   | A Different Perspectives, Red Gate Gallery |
|   |   | Power - Shape: International contemporary Art Invitational Exhibition, Bridge Art Center |
|   |   | New Art from Sichuan, The Collection Gallery, UK |
|   |   | China Scene, Luxembourg |
| 2007 |   | China Sensation – New Art from Chengdu, Art Gallery Of Alberta, Edmonton, Canada |
|   |   | China International Gallery Exposition, Beijing, China |
|   |   | Nocturnals, Canvas International Art, Netherlands |
|   |   | The 8th SSamzie Space Open Studio Exhibition, Korea |
| 2006 |   | New Wave, Malinda Art Gallery, Singapore |
|   |   | To the Watchtower: Red Gate Gallery's 15th Anniversary |
|   |   | China International Gallery Expo, Beijing |
| 2005 |   | Art Contemporary China 2005, Roma, Mexico |
|   |   | Representative Exhibition, Sao. Paulo, Brazil |
|   |   | Representative Artists, Gallery 57, Portugal |
|   |   | 18 Chinese Contemporary Artists Living in Chengdu, Soobin Art Gallery, Singapore |
| 2004 |   | Kunst RAI 2004, Amsterdam |
|   |   | Crowds and Voids: 11 + 1, Art Scene Warehouse, Shanghai |
|   |   | Art Rotterdam, Rotterdam |
| 2003 |   | 3rd Chinese Oil Painting Exhibition, National Museum of Fine Arts, Beijing |
|   |   | Sichuan Oil Painting, Sichuan Museum of Fine Arts, Chengdu |
| 2002 |   | Existence - Sublimation, Cross Art, Chengdu |
| 2001 |   | Chengdu Contemporary Arts, Chengdu |
| 2000 |   | Life in the Dark - 2000 Contemporary Arts, Chengdu |
| 1999 |   | The Twinkling - Chinese Fine Arts at the End of the Century, Smart Museum of Art, Chicago |
| 1995 |   | Chengdu Oil Painting, Chengdu Museum of Fine Arts |
| 1992 |   | 1st Sichuan Bashu Oil Painting, Chengdu |
Awards
2014         

The BigCi Environmental Awards
Public Collections
| | | |
| --- | --- | --- |
| 2004          | Orient Foundation |         Portugal    |
| 2003         | AKZO NOBEL Art Foundation |         Netherland |
-------------------------
Tales of a Director
Creative Notes:
Venue: Red Gate Gallery
Exhibition Dates: May 9 - 31, 2015
March, early Spring before Qing Ming Festival, Botanical Gardens, Chengdu.
Sunday brings a lot of people to enjoy spring. The large expanse of lawn is surrounded by green trees and bushes. Yet the lawn still has its winter die-off and a lot of the grass is dried and yellow, with spots of very fine green.
My eyes caught the diffuse light in the park and stimulated my eye-sight. The green color of the lawn was floating in the air. Everyone had gone. At that moment, I felt something very familiar and yet strangely unfamiliar about this sweep of quiet and empty lawn. It was like déjà vu. Where had I encountered this scene before? It must be Antonioni's lawn I thought. Now the color of the lawn was magically turning from yellow to green – there seemed to be something hidden in the distant bush. The lawn then became dramatically greener and the weird green was intoxicating with diverse shades of intense green like emerald, agate, and jadeite. Suddenly, the whole lawn instantly transformed into a golf course! Where did the little white golf ball I just hit go? It was lost, I told myself. After five minutes looking, just when I had decided to give up, I found it in a corner. However, when I tried to hit it again, the ball showed up in long grass beside an obstacle, and there was another bush. I never succeeded in actually hitting the ball. Was it even a ball I had hit?
Meanwhile, in a nearby tennis court, people were playing tennis without a ball. And I noticed that there was a tennis ball just lying on the lawn.
Han Qing
We are gazing at the lawn, looking for something. Maybe it's a golf ball we lost, a non-existent tennis ball, or some truth in this indistinct world.
This series of paintings is a series of imagined scenes inspired by Michelangelo Antonioni's film Blow-Up. I'm trying to express the visual thoughts that accompany a personal psychological experience, a scene in my mind that feels familiar yet also unfamiliar. The lawn transforms into a golf course because of their shared elements – the greens of the grass.
Han Qing, Beijing
March 31, 2015
Translated by Dr Bruce Gordon Doar
-------------------------
Night is not Day — Han Qing interview
Time: Night, March 26, 2006
Venue: Tu Ce Studio 798 art district, Beijing
Interviewer: Jiang Ming (Curator,Critic)
Subject: Han Qing (Artist)
Jiang Ming (hereafter JM): When did you begin to create contemporary artworks?
Han Qing (hereafter HQ): It began when I was a student, because I was then involved in rock and Roll but also painting at the same time.
JM: How old were you at that time?
HQ: Twenty.
JM: When did you first encounter painting?
HQ: I liked drawing, and began to draw form childhood.
JM: Did you start to study systematically afterward? What was your major?
HQ: Yes, I graduated from the Sichuan Fine Arts College with a major in fine arts education.
JM: Did you teach school after you graduated?
HQ: Well, yes, I spent some time as an art teacher in a Chengdu middle school.
JM: How many years did you teach?
HQ: I left school thoroughly in 1999.
JM: Then you began as a professional artist?
HQ: Not yet, I did something first. I had some part-time jobs.
JM: But you put your main energy on the arts, yes?
HQ: Yes, I left school so that I could focus on my artworks.
JM: When did you begin to draw these artworks?
HQ: I drew some works about disappeared children when I was still at the Academy in 1992, you know, paintings of kids wearing red scarves. Because I often heard reports about pupils who went away from home at that time. I drew some missing persons' notices for children in red scarves.
JM: How did you create these artworks?
HQ: I just used a photocopier to enlarge photographs of children, and then drew them out monochromatically. It's a set of artworks. There were some photos of children, such as one drawing called "Two boys went back home reluctantly after school." They wear schoolbags in a clear place with a high-handed electrical wire on their back. There were a number of works in this vein.
JM: What did you want to show in this set of artworks?
HQ: I wanted to show a social disposition, to show the disposition of children who had been repressed.
JM: To show a social problem, the individual and family problems brought on by transitions in the educational and political systems, right?
HQ: Yes, there were parents at that time who left to make money and didn't take care of their children.
JM: Educational loss stems from economic and commercial influence. Were you looking to refract larger social problems by looking at children?
HQ: That's it. Lots of parents haven't the energy to take care of children, due to the pressures of daily existence and competition. These pressures are brought on by the changes in Chinese society. Afterwards I began to work in self-portraiture.
JM: Was that your second series?
HQ: No, although the subject was different, these works date to the same moment.
JM: Is there anything special about your painterly language?
HQ: I used a palette of blues and grays to show feelings of repression and depression. And I made another work in which a pedestrian crossing the road encounters strong light and has to hold his hands up to block it.
JM: When did you start to create these artworks about the night?
HQ: I started these artworks about the night in 1999. But these works are not in the vein of the very specialized works about night light that I did later. They still contain scenes of people.
JM: When did you first decide to remove the people?
HQ: Beginning in 2001, I began to work in the way I do now, without people, only scenes of lit-up nights. I wanted to create a space people could inhabit, to show how one person can feel lonely on a clear night, a psychological experience in which loss and hope stand contradictory. Night is not day.
JM: After 2001 your paintings had no people, they became merely environments.
HQ: Yes a kind of environment. Mostly they depicted the evening streetlights.
JM: To show a clear feeling and let people feel loneliness and coldness.
HQ: In my opinion, society has been developing is so quickly since 2000. Sometimes people haven't figured out how to adapt. For example, days are filled with hell-bent work, and this changes your identity and status. The most basic and instinctual things about people are camouflaged. Then at night, people return to their normal dispositions, and this is ever more obvious.
JM: Your canvases have a certain expressionist quality to them. Why do you use this method?
HQ: I'm a very emotional person. My painting is not an exquisite or rational thing. I must enter a kind of state when I'm drawing. I need spiritual to let my spiritual tendencies show.
JM: Do others influence your works? Such as Richter?
HQ: There are some, coming from the art-historical canon, for example the Italian painter Giorgio diChirico.
JM: Your canvases are quite different from his in my opinion.
HQ: Yes, I like deep and serene scenes. And the canvas should have stronger perspective to create a space that can let you in.
JM: But diChirico's works are so rational.
HQ: I still like a few of his works.
JM: You are interested in the way he makes his artistic point.
HQ: Yes, you're right, artistic conception is the most pivotal thing in my painting.
JM: In fact, the technique is different completely. Do others influence your painterly language?
HQ: My painterly language does not derive from anyone. I like lot of artists for the way they paint. But in the end I have to find my own expressive method. So I ended up creating my own technique.
JM: What's special and different about it?
HQ: I paint in reverse. Usually people start by painting dark colors and then fill in the light spots on top. I start with the bright parts and finish in one swoop, at one time. I need to finish while the paint is still watery.
JM: You need an impulse to create! You are rather emotional.
HQ: Yes, my paintings are like pencil sketches that add dark to light; usually one starts with darkness, or from intermediary colors.
JM: The feeling is like develop come out bit by bit.
HQ: My painting use white as base. First I apply a watery white then draw directly. There are a lot of optional and improvisational things. I find a kind of effect to adapt myself, I think.
JM: Do you think you have already found it?
HQ: Yes, I found it a long time ago. So my painting is complete, at least from a technical standpoint.
JM: Do you think painting technique is important?
HQ: Yes, I think that a painter needs to solve technical problems. If many technical problems are left unresolved, the painting is not perfect; perhaps it even fails.
M: What do you think is important for contemporary art?
HQ: I think painting is still about conveying information to people. That's one concept, one rationale. But how do you present your work through a complete method as a painter? You must answer this question, otherwise you should use other methods. This is the difference between painting and other media like photography and performance. I prefer painting because I have confidence in it. I think this is the temptation, or the charm of painting. It can create the images that I envision.
JM: Painting should have a strong technical character.
HQ: Yes, if painting doesn't have stronger character, you should not paint. In fact, I'm comprehensive. At the same time I work with painting, I also dabble in photography.
JM: What relation exists between your art and your family?
HQ: No relation.
JM: What do your parents do?
HQ: They are sort of generic corporate employees with no connection to art.
JM: So they have no influence on you?
HQ: I'm sure there are some subtle influences, because when I chose art, they were initially opposed. Parents of my parents' generation mostly hoped for their children to have a normal stable job, particularly because it wasn't very easy to get into art school at that time.
JM: What hobbies do you have except drawing?
HQ: Originally, I liked music. When I studied at the academy, I also organized a band, and now music is my second hobby.
JM: Does your music influence your painting?
HQ: Quite a lot. Actually music is quite intense in the artistic domain, especially rock-and-roll.
JM: Why don't you continue to make music?
HQ: If I continue to make music, it means I'm going to continue to suffer.
JM: Are you afraid of suffering?
HQ: No, but to make music you need to cooperate with a lot of people. Perhaps I am just too much the individualist.
JM: But painting is freedom for individual.
HQ: Yes, it's most pivotal. Music also needs equipment and other conditions.
JM: In other words it can be restricted by many conditions.
HQ: The third reason I stopped making music was that market space was so limited at that moment.
JM: Do you take much account of the market?
HQ: You need a basic guarantee for your existence.
JM: But choosing art means hardship too. If it's only about the demands of life demand, you could choose another job and live better.
HQ: I prefer to put my strong suit out.
JM: Do you like reading?
HQ: I'd like to read psychology books.
JM: Do you read much Freud?
HQ: Yes, but I like psychology books about art better.
JM: What do you think is the biggest difference between our generation and others?
HQ: Firstly its idealism, but the ideals seem to be gone today.
JM: I don't agree with this viewpoint. When other people don't have ideals, why does that mean you can't. Lots of people raise this point but I never agree.
HQ: I can have ideals, but they are always affected by environment.
JM: Why do you have to be affected by your environment? You should strive for your individual ideals.
HQ: That's my greatest disappointment: Due to this whole set of social changes people have lost their ideals.
JM: This seems just to prove that your ideals are not strong enough.
HQ: There just seem to be so many compromises to me.
JM: That's the most weak-kneed trait of the Chinese cultural intelligentsia.
HQ: One person also needs to adapt to the larger atmosphere of his or her era.
JM: Why must one person must go with the flow of an era?
HQ: One person will be lonelier like that.
JM: If you can really strive for your ideals, why would one care about loneliness? Each person must stay lonely in order to persevere in his idealism.
HQ: I think there is a better method. In my opinion, people should adapt to this society, because they are gregarious animals.
JM: Not every artist can become a Van Gogh. Actually their ideals and ambition is not their real necessity. At a suitable opportunity, the will transfer his ideals to other things.
HQ: Yes, there are many inconsistencies between idealism and realism. Currently there is less possibility to be a Van Gogh. Many people like to compromise toward realism. People consider the good life and there are many things to do. Sometimes you disengage from society only to discover that individual behavior is weaker still.
March 27, 2006
-------------------------