Chen Qingqing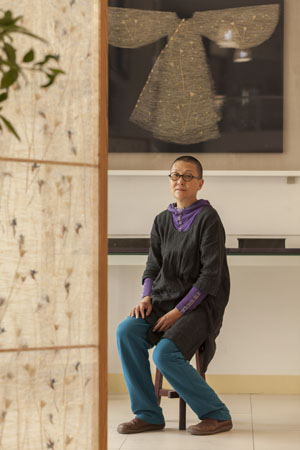 Imagining herself as a restless ghost, perhaps finding another male ghost seeking companionship, Chen has done battle with her own – and others people's – interpretation of history, searching for the kind of freedom she has yet to find, either here, in Europe or anywhere else she has travelled in the world. 
By: Clare Pennington
1972-80
Studied Traditional Chinese Medicine, Beijing
1980-86
English / German Literature Studies, Beijing, Vienna
Started working as professional artist
1998 - Present:
Returned to China, Full time artist
 
Solo Exhibitions
2015 Fantasy Museum – Qingqing 22 Years of Installation, Yan Art Museum
2012
Retrospective Exhibition of Qing Qing's Installation Art, Today Art Museum
2009
Dream of Fifteen Years Installation Art by Chen Qingqing, LDX Art Center of Beijing, Songzhuang
The Living Garden, Europalia International Art, Belgium
2008
Enchanted Paradise, Schoeni Gallery, Hong Kong
2006
Mirage of 798 – Secret Light, Dayaolu Zhanchon
2005
The Mirage of 798 – Secret Light, Beijing
Qing Qing Installation, Tokyo Gallery, Tokyo
2004
Nature – Substance – Substance-Nature, Things In Boxes
Qing Qing's Installations 2000 - 2004, Red Gate Gallery
2003
Qing Qing Installation, Today Art Museum
2002
Qing Qing is Back! – 2nd Solo Exhibition, Red Gate Gallery
2000
Qing Qing, Chinese Contemporary, London
1999
Nomad of the Soul, AAL – Gallery Karl Strobe, Vienna
Qing Qing Mixed Media, Red Gate Gallery
1998
City Light, Gallery Wort und Bild, Vienna
1997
City Light – Wish – Want – Desire, Beijing
City Light Installation, Beijing Scitech Shopping Center
Light Installation, Afro – Asiatische Institute, (AAI), Vienna
1996
Head Sculpture Installation, Studio Fortschnitt, Vienna
Home Installation, Modern Art Museum, Vienna
1995
Qingqing Chen Sculpture, Century Gallery, Beijing
 
Group Exhibitions
2012
Two Generations – 20 Years of Chinese Contemporary Art, 2012 Australian Tour: City of Sydney Chinese New Year; Manning Regional Gallery; Damien Minton Gallery; University of Newcastle Gallery; Melbourne International Fine Arts (MiFA); Linton & Kay, Perth
2011
20 Years – Two Generations of Artists at Red Gate, island6 Art Center, Shanghai
20 Years – Two Generations of Artists at Red Gate, Red Gate Gallery
2009
Translucence – Female Contemporary Art From China, European Center of Contemporary Art (Electric Center), Belgium
The Living Chinese Garden, Europalia International Art, Belgium
2008
Life in Songzhuang – Female Version, Songzhuang Museum, Beijing
Facing China – The Fu Ruide Collection, Museum of Iceland, Austria, Norway, Finland, Sweden
Red Gate Stars, Red Gate Gallery
2007
Escape By Crafly Scheme – Salvation from Traditional and Revolutional Language, Square Gallery of Contemporary Art, Nanjing
China Under Construction, Deborah Colton Gallery, Houston
Floating – New Generation of Art in China, Korea National Modern Art Museum, Korea
Digital Soul, Art Seasons Gallery, Beijing
The Power of the Universe – Exhibition of Frontier Contemporary Chinese Art, Asia Art Center, Beijing
2006
To the Watchtower: Red Gate Gallery's 15th Anniversary Garden Tour – Opening Exhibition of Gong Gallery, Beijing
Red Gate Stars, Red Gate Gallery
2005
Loft of Language: Female Artists in China, ¾ Gallery, Beijing
China – Ireland Art Festival, Shanghai Art Gallery
Untitled, Pingyao International Photography Festival, Shanxi
Mandarin Century: Outdoor Installation, New Millennium Monument Art Museum, Beijing
Passion and Force, Yan Art Center, Beijing
Transparent Box: the Unlimited Extension of Limited Space, Jianwai SOHO, Beijing
One Dimensional and Two Ends: the Expression of Design in Contemporary Experimental Art, He Xiangning Museum of Art, Shenzhen
2004
Dream – Perplexity, Modern Female Identification, China Women Activity Center, Beijing
Only the Cat Knows: Works by Chen Qingqing, Yuan Yaomin, LA Gallery, Beijing
La France Mandarine, Beijing, Shanghai, Hong Kong, Paris
Democracy Forever, Plum Blossoms, New York
2003
SHE – Ten Female Artists, China Seasons Art Gallery, Beijing
Golden Harvest: Chinese Contemporary Art, Zagreb, Croatia
Listening to Women Telling His-Story: Conceptual Art, Chongqing
From Lausanne to Beijing, 2002 International Tapestry Art Biennale,
Qinghua University, Prize for Excellence
30 Years with A Future, New Millennium Monument Art Museum
2002
East Asian Women and Her – Stories, Seoul
2001
Hot Pot: Chinese Contemporary Art, Kunstnernes Hus, Norway
Documentation of Chinese Avant-Garde Art in 90's, Fukuoka Asian Art Museum, Japan
Phenomenon, Gallery FAN, Beijing
2000
Semi Transparent, Shanghai
1999
Womnifesto II, 2nd International Woman's Art Exchange, Saranron Park, Bangkok
1998
Vivre Life, Wan Fung Gallery, Beijing
Forest Textile Installation Festival, Austria, Second Prize
Corruptionists, Public Exhibition Space, Beijing
Tuition, Experience, Concept, Installation, CAFA, Beijing
Der Gross Hallmasch, SUR Gallery, Vienna
Social Installation, Thailand
1996
Point and Line, Calligraphy and Installation, Gallery Atrium de Art, Vienna
 
Performance Art
2003
Shine on My Lungs, Special Economic Zone, Beijing
2001
Cry After 9.11, Jiezi Garden, Beijing
2000
The Right to Give Birth, Chinese Contemporary, London
Art Circle, Yuangong Art Gallery, Shanghai
1999
Born to be a Woman, 2nd International Woman's Art Exchange, Bangkok,
Ambiguity – Summer 1999, Songzhuang Village, Beijing
Beijing Clone, Chinese Contemporary
1998
Culture Fish, Vienna
1997
Air Revolution International Art Performance Conference 5, Bangkok
"I put my memories in different containers. Sometimes I even take them out and later shift them around."