Shi Zhongying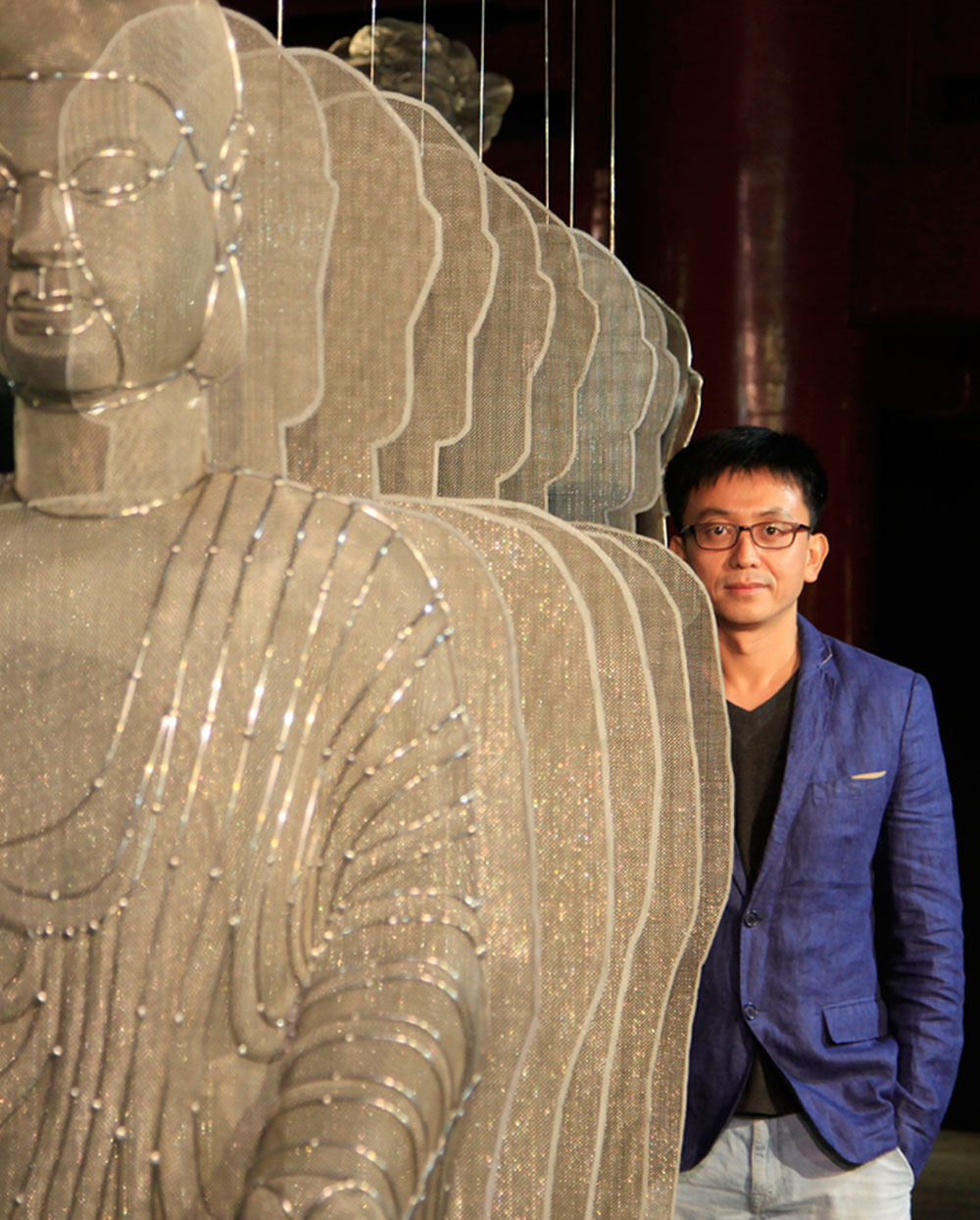 -------------------------
Zhongying's Icons: Shi Zhongying's Contemporary Sculpture
Exhibition Venue: The Opposite House
Exhibition Dates: 1st January – 31st March, 2015
Essay: Viewing Zhongying's Icons
Since ancient times, makers of Buddha statues and Buddhist icons have rarely bequeathed their names to posterity or left traces of their lives. There are two major reasons for this situation: First, the ancient Chinese did not have the concept of "the arts" (yishu) that we borrowed in modern times from the West, and those artisan sculptors who relied on time-honored craft practices were relegated by the "articulate" to the ranks of craftsmen who vanished among the anonymous mass of the population. Second, those who crafted statuary were discrete in their "self-identity as artists", either because they consigned their work to those who commissioned them or because their work was motivated by religious piety, and so they tended to be obscured by society or by religious appearances, and were not visible to most people.
The young contemporary sculptor Shi Zhongying has, however, titled his works "Zhongying's Icons"; he focuses on aspects of the Void and Reality and expresses meaning through Buddhist imagery, so that his work is at one and the same time emptiness and reality, both reality and image. His spiritual experience accumulated over seven years of creative work has resulted in the creation of his own unique style, and for himself and for others he has reconstructed the meaning of "making statuary".
At other times, he delicately traces the sensual curves of a vine or a nautilus shell. All of his forms embody the idea of complex balance that is central to Buddhism and indeed to the universe itself.
This exhibition includes Zhongying's Buddha Icon series and his Self series. The Buddhas and the Selves are installed together and so reflect each other. The works use different materials that are carved and cast, then augmented and completed, some even with plants and soil. Thus they appear to transform in the process of seeking balance, and this balance in the works gives them a "harmonious and tranquil style", yet not simple harmonizing, rather metaphysical speculation and an atmosphere that is at one and the same time constructed by harmony, alienation (distancing), development, and change, and this forms the moving heart of the exhibition.
How does he achieve this? In the context of contemporary sculpture, critics and the market demand that many works consciously or unconsciously embody elements that are "weird" and "volatile" to elicit a dramatic reaction in viewers the moment they see it, but the aesthetic reaction is short-lived and gives way to ennui. So many sculptures are able to arouse dramatic emotions but this hides a poverty and inadequacy of underlying content; it is all part of the mad drive to be different in the quest for fame. The works of a few young artists who have reacted against this trend to "weirdness" and "volatility" have appeal because of their freshness and purity, but works such as Zhongying's that achieve an "evenly balanced and tranquil style" are rare among contemporary sculptures.
I have known Shi Zhongying for many years; his mild temperament and simple manner, and the persistence he brings to his creative work, give him a unique style. At all times, there is a Buddhist coloring in what he says and he is not at all flashy like other people imagine. So, I can confirm that apart from the fact that he and his creative work do not emerge from some fundamentalist mysticism, yet I am always curious to know whether religion for him is a home, or a path? Did his mild temperament and emotional makeup find an inner compatibility with Buddhism or did the teachings of the Dharma gradually lead him to tranquility? From the perspective of an observer such questions come alive when contemplating the man and his work in the context of this exhibition.
And so I was looking for answers in the exhibition.
Shi Zhongying, talking about his Buddha Icon series, has said: "My initial motivation in creating this series of works was tackling the question of how I use contemporary art forms to convey my understanding of Buddhist wisdom and at the same time remove from these Buddha icons any traces of the notion of idolatry and superstition that Buddhist images often evoke in the minds of many people, especially intellectuals, and so position Buddhist sculptural art and contemporary society in a truly meaningful relationship". In his works we can see that in the arrangement of the serene background of the work titled Buddhas of the Past, Present and Future, the lighting creates the metamorphosis from figurative image to abstraction, from entity to void, and finally "from form to meaning", and the expressed imagery of this entire process is also a process in which the iconic existence of the "Buddha" is deconstructed; this process of deconstruction acts on inherent rules and beliefs. What most interests me is how in this process of deconstruction the artist removes forms and the remaining traces of images that all call for subjective choices, because behind these choices lies something spontaneous that invariably reveals his true self.
The viewer sees how wherever the mesh body of the central Buddha is restrained and supported by wire, the form has a subtle fullness in the interplay between the void and reality, endowing it with stylistic perfection; the Buddhas to either side have been removed from their "flesh-and-blood" embodiment, and the most "pleasing" aspect is that only the framework remains in the void. Even so, the attentive viewer will have no trouble discerning the structural proportions of the frame of the body and the textured white cloth retains the icons' inner harmony and elegance. While this could be interpreted as the artist intentionally extracting the essence of the Dharma, I believe this is more the result of Shi Zhongying's many years of academic training in perfecting sculptural modeling and his technical self-cultivation. In this way, his particular choices and his finely honed talent and ideas are not attributable to religious philosophy and thought, but to his natural expression as an artist.
In another work titled Amitabha, Shi Zhongying attempts to treat his personal sculptural language as an installation, and in the imagistic and spatial relationships of reality and void that infuse the Buddha icon, he opens up a mode of "transformative incarnation" that ushers the viewer into an observational process informed by alternative perspectives, in which images enervated at the boundaries of images and space generate ideas and through the blurred boundaries of religious and artistic ontology we can glimpse the individuation of the self through the haze.
In the artistic language Shi Zhongying deploys in this exhibition, Buddhist themes occupy the absolutely central position, but the viewer can everywhere discern the "self", particularly in the Self series. These works take as their blueprint the genuflecting and extended postures of the Tibetan Buddhist pilgrim, and these combine different media to present a deep meditation on issues related to the Buddha and the Self. Shi Zhongying has said: "Buddhists have a deep understanding of the Self, and the self does not simply refer to a person's body (the corporeal self) but has a much broader meaning referring to the subjective selfness and independently unchanging existence of everything, and the conclusion that to grasp the self one can only be free by liberating oneself. Prostrating oneself in the pilgrimage mode of Tibetan Buddhism is to put aside all arrogance, to abandon the Ego completely, and to embody humility; it is a misconception to see such a Buddhist practice as an expression of idolatry. Yet this group of works is not cloaked in ordinary Tibetan Buddhist robes; I have used my own body as the prototype for emphasizing first-hand experience, and I use the most basic sculptural body language to provide a concise metaphor of the primordial state of the self".
But as a viewer, I not only see the "Self" of the experiential understanding of the artist in this group of works, but also see the relations and reflections generated between the "Self" and external objects. Regardless of their title, in the work titled The Floating Life the white marble "Self" floats in the quietude of the black granite; in Rebirth the purity of the eight Selves is highlighted by the scattered salt; in Symbiosis the grass that sprouts from the body of the Self is ongoing life. All these works can be seen as the quest of the inner self for inner balance and seeking oneness and harmony with the external world, as well as the effort to adapt and understand.
After I left the exhibition, I continued to ponder the "self" that is Shi Zhongying the individual and his works, and the question of whether religion for him is a home, or a path? At its core, his art is an interpretation of the Dharma, and he borrows the Dharma to find his own path of artistic development, or does he use this complex synthesis of realities to preserve his own inner calm? I still cannot answer this question, but perhaps the question is irrelevant because causality is irrelevant, and do religion and art ultimately make this distinction?
Liu Guan, Beijing
October 31, 2014
Translated by Dr Bruce Doar
-------------------------
Viewing Emptiness
Exhibition Venue: Red Gate Gallery
Exhibition Dates: July, 2007
Essay: Shi Zhongying's Contemporary Buddhist Aesthetic
1995

Born in Yuannan

1999

Graduated from the Sculpture Dept.,Central Academy of Fine Arts,Beijing

1999 - 2004

Teacher at the Academy of Fine Arts, Hebei University

2004 – 2007 

2007- Present:

Masters Degree in the Sculpture Department, CAFA

Professor of Art and Design at the Beijing Forestry       University
Solo Exhibitions

 

2015

Abandonment & Symbiosis, Kunting Experimental Art Exhibition, Beijing

 

Zhongying's Icons, The Opposite House, Beijing

2014

Zhongying's Icons, Red Gate Gallery

2007

2005

2005

Viewing Emptiness, Red Gate Gallery

Viewing Space, Red Gate Gallery

Philosophy Space, Green Tea House
 

Group Exhibitions

 

2017

Red Gate on the Move, Red Gate Gallery, Beijing

 

The 7th Beijing International Art Biennale China 2017,National Art Museum of China, Beijing

2016

Flower in the Rock, Beijing 22 International Art Plaza, Beijing

 

Bustling glimmer, Beijing Agricultural Exhibition Hall, Beijing

 

Breathing – Contemporary Sculpture in traditional Chinese culture, Nanjing Museum, Nanjing

2015

Tanyuan International Sculpture Biennial 2015, Taiyuan Art Museum

 

Seoul International Sculpture Exhibition, Seoul Arts Center, Seoul

 

The 2nd Chinese Contemporary Buddhist Exhibition, Wuxi Soul Mountain Fanonhouse, Wuxi

 

A Beautiful Mind, Longyibang Gallery, Beijing

 

The 6th China Koran Contemporary Sculpture Exchange Exhibition, Chian Sculpture Institute, Beijing

2014

Hand in Hand – 2014 1st Sculpture Exhibition of China Open, National Tennis Centre, Beijing

 

Innovation – Artistic conception, Chaoyang Museum of Urban planning, Beijing

 

The 2ndSuzhou Jinji Lake Biennale, Suzhou

 

Approaching the public, Beijing 22 International Art Plaza, Beijing

 

丹青贺岁,National Art Museum of China, Beijing

2013

The 10th China Art Festival Exhibition, Shandong Art Museum, Shan Dong

 

Pilgrimage - National Fine Arts Exhibition,Dunhuang Art Museum, Dunhuang

 

Language were Floating - the 3rd Sculpture Exhibition,National Centre for the Performing Arts, Beijing

2012

Chinese Pose – The 2nd China sculpture Tour Exhibition                                    

 

Sculpt China – CAFA Sculpture Retrospective Exhibition, The Sculpture Institute of the CAFA, Beijing

 

Two Generations - 20 Years of Chinese Contemporary Art 2012 Australian Tour: City of Sydney Chinese New Year; Manning Regional Gallery; Damien Minton Gallery; University of Newcastle Gallery; Melbourne International Fine Arts (MiFA); Linton & Kay, Perth

2011

20 Years - Two Generations of Artists at Red Gate, Island6 Art Center, Shanghai

 

20 Years - Two Generations of Artists at Red Gate, Red Gate Gallery

 

Luxembourg Ambassador's Sculpture Garden, Beijing

 

Ming to Nirvana, Red Gate Gallery

2009

China Form, Red Gate Gallery

 

11st National Art Exhibition, Changchun

 

The First Sculpture Exhibition, Beijing, Changchun

2008

Future Sky – Nominated Chinese Contemporary Young Artists 

 

Today Art Museum

 

Present Situation – Annual Nominated Sculpture Exhibition of Liu Haisu

 

Museum, Shanghai

 

Red Gate Stars, Red Gate Gallery

 

First China Grand Exhibition of Sculptures, Tour Exhibition

2007

Neo-Nirvana Contemporary Interpretations of Buddhism, 798 / Red Gate Gallery

2006

Shanghai Art Fair Emerging Artists' Exhibition 2006, Beijing

 

To the Watchtower: Red Gate Gallery's 15th Anniversary

 

Starting from Sculpture, Beijng

 

China – Korea Contemporary Sculpture, Beijing

 

China – Korea Contemporary Sculpture, 798 / Beijing

2005

Luxury Time – Sculpture Prediction Contemporary Outdoor Sculpture of China, Tanjin

2nd Beijing International Art Biennial, National Art Museum of China

 

(NAMOC)

 

Asian Traffic, Today Art Museum, Beijing

 

2nd Chengdu Biennial, Chengdu

2004

10th National Art Exhibition, NAMOC

 

1st Fresco Exhibition, NAMOC

2003

1st Beijing International Art Biennial, NAMOC

 

1st Guilin Yuzi Paradise International Sculpture Awards, Guilin Yuzi

 

Paradise, Guangxi

2002

Beijing International City Sculpture, Beijing International Sculpture Garden

 

Beijing Dialogue, China Art and Archive Warehouse; Embassy of Norway,  

 

Beijing

2001

1st Jingwen Art Exhibition, Jingwen Art Center, Shanghai

 

Chinese Contemporary Art, Limn Gallery, San Francisco

 

Clues to the Future - Red Gate Gallery's 10th Anniversary

 

Red Hot, Sponsored by Ogilvy and Mather, Red Gate Gallery

 

Elements, Five Artists Metal Sculpture, CAFA; Red Gate Gallery

2000

Conflicting and Choosing, 2nd Contemporary Young Sculptors Invitational

 

Exhibition, Hangzhou; Qingdao

1999

9th National Art Exhibition, NAMOC

1998

Country of Pottery, China Contemporary Pottery, Spain; Denmark;

 

England

 

'97 - '98 International Biological Sculpture Competition, Italy

1997

Six Young Urban Sculptors, Tianjin
Awards

 

 

2003

Excellence Prize, 1st Guilin Yuzi Paradise International Sculpture

2002

Excellence Prize, Beijing International City Sculpture

1999

Second Prize, The Okamatsu Foundation, CAFA
Collections
Ministry of Culture, China; Peano Foundation, Italy; Embassy of Norway, Beijing; Beijing
International Sculpture Garden; CAFA Gallery; Guilin Yuzi Paradise; Art Museum of
Chengdu and Individual Collections
-------------------------
Zhongying's Icons: Shi Zhongying's Contemporary Sculpture
Exhibition Venue: Red Gate Gallery
Exhibition Dates: 18 October – 30 November, 2014
Autobiographical Note:
To be a sculptor, especially these days, I believe you must have a varied background in reserve as well as insight, apart from having an unwavering concept of your own personal values. It is not necessary that each and every one of these insights and background experiences be rationally deployed, but I do believe they remain in our subconscious, and if the opportunity arises they will surface and inspire wisdom in us.
Sculpture for me was one such important opportunity that, in turn, shaped me. Since 1999, I've been mainly working on using various types of grids as my main material to produce symbolic abstract shapes that I use to convey metaphysical meanings. But during the first two or three years I didn't realize that my works contained Zen Buddhist meanings, and it was only as a result of conversations with friends and teachers that my curiosity was aroused and I began to learn about Buddhism and Buddhist studies and especially about its religious and philosophical thought. For me the resonance of great wisdom, especially that of Buddhism, had a most profound effect, and its great ideas in turn deeply influenced and inspired my sculpture, my outlook on life, and my values.
Even more exciting for me was the continuation of opposite and complementary growth. After one has produced a work that had as its inspiration a particular understanding then this work will not only lead to a series of new works but, what is more interesting, in the process of sharing the work with others, it takes on many new interpretations, and many of these go far beyond what originally motivated me to create the piece originally. Some of the interpretations and feedback I receive give further inspiration. For this I can thank both my audience and my sculpture!
The Buddha Series
In the propagation of Buddhism, Buddhist art forms change with the changing times.
If I can use contemporary art forms to communicate my understanding of Buddhist wisdom and dispel the idea in the minds of many people, especially the vast majority of intellectuals, that Buddhist statuary is associated with idolatry and superstition, by creating contemporary Buddhist sculptural art that is truly meaningful and relevant for contemporary society, then I will have filled my heart-felt desire in producing this series of works.
Shi Zhongying
The Self Series
The Self is a series of works that I have been trying to create over recent years, and each piece can be seen as a different stage and different understanding of what I am producing, as well as a contingency impelling me towards wisdom. Buddhists have a very deep understanding of "the self", which not only refers to the physical "self" but in a more generalized sense refers to everything that exists independently as a self-aware subject, with the result that if one cannot detach oneself from "the self" then one cannot be free from attachment. In Tibetan Buddhism pilgrims who measure out their journeys in long full-body prostrations encapsulate the humility that is necessary for casting aside arrogance and completely abandoning the "self", and it is a general misconception that this Buddhist practice entails kowtowing before idols.
But in this group of works I never use Tibetan robes to make this point; instead I use my own body as the prototype emphasizing first-hand experience and I adopt the most basic sculptural body language to allude concisely to the primordial state of the Self.
Shi Zhongying
The true meaning of Buddhism's stress on "emptiness" (vacuity) does not mean that there is nothing, but that the things of nature do not have a subjectivity that is independent and constant; there is nothing that is constant and unvarying, so there is no "Self" and everything is relative and transient, and can only be understood as part of a constant and interdependent evolutionary flow.
Shi Zhongying, Beijing
October, 2014
Translated by Dr Bruce Gordon Doar
-------------------------