Gade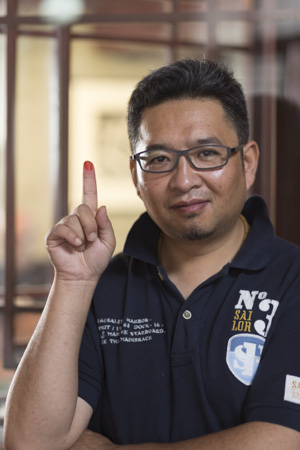 For Gade, Tibet is not a changeless museum of mysticism. It is TV and KFC, Levi's and Budweiser. He uses traditional iconography, cloth and pigments. But his scroll-format paintings are as likely to include Ronald McDonald or Spiderman as the Buddha.
From:http://www.whiterabbitcollection.org/
He has always been entranced by ancient Tibetan painting, especially old wall paintings that have survived for several hundred years, the originally pure, strong colours of which have become mottled with age. 

Paintings from his 'New Buddha Series' and his 'Diamond Series' reflect this culture shock with images of such American iconic pop figures as Mickey Mouse, Spiderman and the Hulk appearing in the centre of traditional-looking works.
From:http://www.rossirossi.com
1971               Born in Lhasa
1991               Graduated from the School of Fine Arts, Tibet University in Lhasa,
                      with a degree in Traditional Chinese Realism Painting
1992              Studied Art Theory in Central Academy of Fine Arts (CAFA) 
 
Solo Exhibitions
2012              Black Classic, Boers Li Gallery, Beijing  
                      Mountains and Rivers, Rossi & Rossi, Art HK
2010              Gade: Half Tibetan – Half Chinese, PW Contemporary, Santa Fe, New Mexico
2008             Mushroom Cloud, Plum Blossoms Gallery, Hong Kong
                      Making Gods, Rossi & Rossi, London
2004             Lost Horizon, Sweet Tea House Gallery, London
2003             Art From Tibet, Sweet Tea House Gallery
 
Group Exhibitions
2012               All Our Relations, 18th Sydney Biennale
2011               What's So Funny About Peace, Love And Understanding?, Rossi & Rossi 
                      Roundabout, Tel Aviv Museum of Art
2010              Scorching Sun Of Tibet, Songzhuang Art Center
                      Roundabout, City Gallery Wellington
                      Boys and Girls Come Out To Play, Rossi & Rossi
2009             Four Tibetan Contemporary Masters, PW Contemporary Gallery
 
2008              Return to Lhasa – Second Annual Tibetan Contemporary Art Exhibition, Red Gate Gallery 
                       ShContemporary Art Fair, Shanghai
                       55 Days in Valencia – Chinese Art Meeting, Museum of Modern Art, Valencia
2007              Reincarnation, Doris McCarthy Gallery, UTSC, Toronto
                       Counsciousness and Form: Tibetan Contemporary Art, Rossi & Rossi
                       Lhasa: New Art From Tibet, Red Gate Gallery
                       Inside Out – Tibetan Contemporary Art, Tibetan Gedrun Choephel, Lhasa
                       Tibetan Encounters: Contemporary Meets Tradition, Neuhoff Gallery, New York
2006              Art From The Roof Of The World: Contemporary Paintings From Tibet,
                       Siebengebirgs Museum, Konigswinter, Germany
                       Lhasa Train, Peaceful Wind Gallery, Sante Fe
                       The Waves on the Turquoise Lake - Contemporary Expression of Tibetan Art,
                        University of Colorado Museum, Boulder, USA
2005              From Classic to Contemporary Visions From Tibet,
                       Rossi & Rossi and Sweet Tea House Gallery
2002              Transversing Cultures: Observations in Time and Space,
                        Henry Street Settlement Abrons Art Center, New York 
                       Visions of Tibet, Sung Harbor Cultural Center, Staten Island, New York 
                        Modern Mythologies, Elsa Mott Ives Gallery, New York
2001                Tibetan Paintings Exhibition, Beijing Gallery
2000               Even By The Mountains - Tibetan Contemporary Artists, Macao
1999               Tibet Snowy Pearl – Contemporary Paintings, Beijing International Book Gallery
1998                Han Shunli, Gade, Kuala Lumpur
"I am interested in the state of people who are living in this ever-changing society." 
"In most people's minds, Tibet is an ancient, mysterious and exotic place. The notion of 'Tibet' is a conundrum. When outsiders actually visit Tibet, especially Lhasa, they get culture shock when they see all the pop culture, fast food, rock music, Coke and beer, brand name clothing, Hollywood movies, the nightlife scene, etc. I think Lhasa ought to be renamed Lhasa Vegas."