Jiang Weitao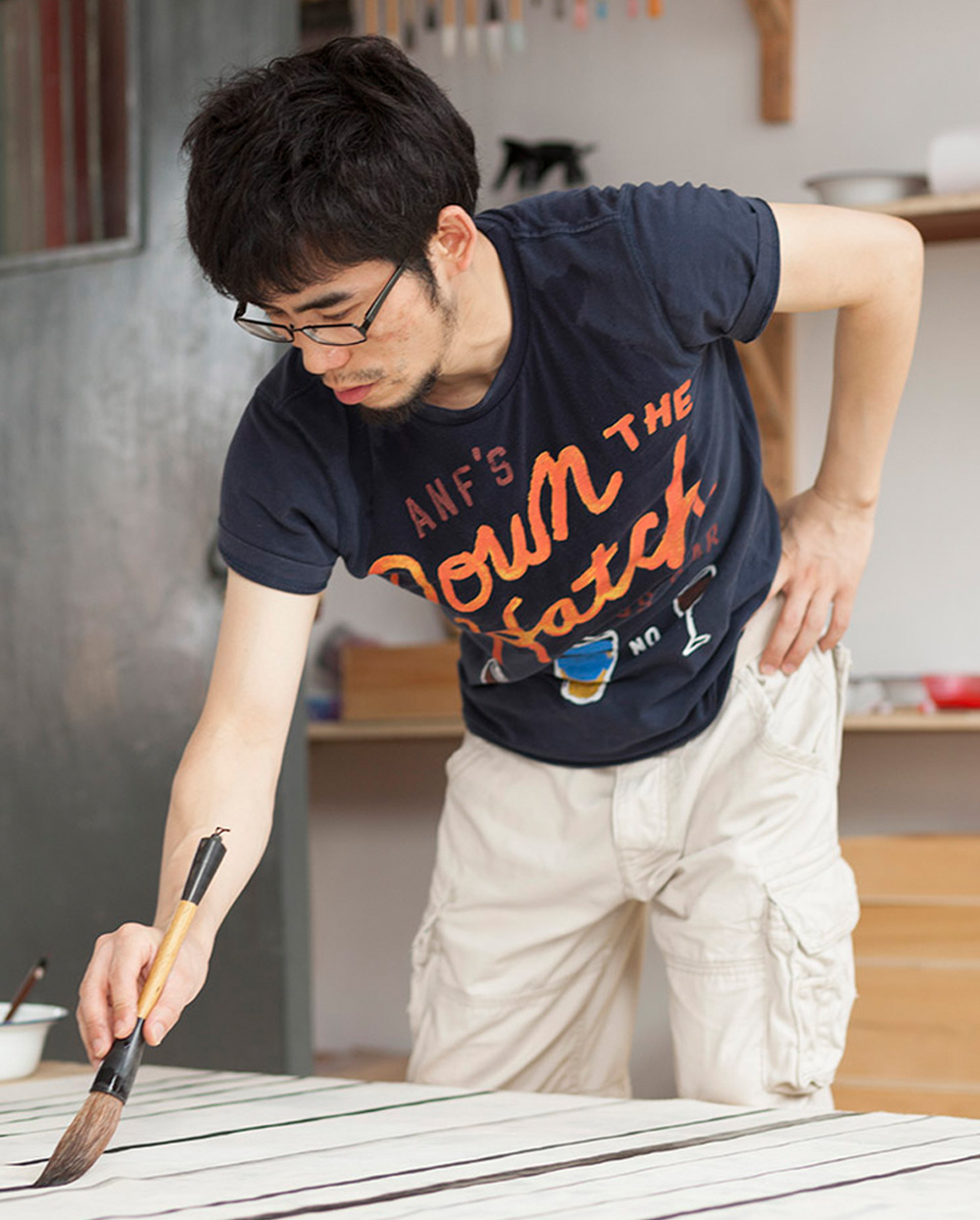 -------------------------
Jiang Weitao: Art Documents
Exhibition Venue: Red Gate Gallery
Exhibition Dates: July, 2007
Essay: The Harmonic Abstraction of Jiang Weitao
Jiang Weitao asserts his commitment to abstraction and describes his natural arrival at it within the context of traditional Chinese arts. In his essay, he discusses the philosophical link between Chinese calligraphy, painting and poetry. This trinity of expression, known as san jue, or the 'three perfect things,' is a concept acknowledged by contemporary art historians as one of the keys to understanding Chinese artists' approach to abstraction. Jiang states that these three art forms "inherited the same spirit," and that "[t]hey all intend to represent complexity with simplicity, concrete with abstract."
The writings of contemporary Chinese art historian Wen Fong substantiate Jiang's explanation of this uniquely Chinese approach to abstraction: "Because the key to Chinese painting is calligraphic brushwork, the integrity and cohesion of Chinese art theory and the practice of calligraphy are based not on the priority of either representation or nonrepresentation but on the essential harmony between the two." Jiang is clear to state that his interest does not lie in "external forms" (i.e., representation), but rather in harmonies between "individual spirit and environment, stillness and movement, forward and reverse…" His attention to this harmony reflects Daoist principles, which often emerge in theoretical assessments of modern and contemporary Chinese abstraction.
Whereas twentieth-century Western abstraction completely rejected representation in favour of pure formalism, Chinese artists resist being so doctrinaire. The influential American art critic Clement Greenberg almost single-handedly established draconian approaches to abstraction as he championed the Abstract Expressionists in the 1950s. For Greenberg (and, as a result, for an entire generation of painters in the mid-twentieth century), painting could not have any connection to the forms of the real world. Painters such as Jackson Pollack and Mark Rothko embodied these notions in their two-dimensional, insistently nonrepresentational canvases. The formal elements of line and colour where emphasised, and these aspects became the subject matter itself.
Jiang, like many Chinese artists, is more interested in creating a harmony between his abstract world and the natural world.
At other times, he delicately traces the sensual curves of a vine or a nautilus shell. All of his forms embody the idea of complex balance that is central to Buddhism and indeed to the universe itself.
In his Art Documents, he demonstrates his unique reconciliation of formal elements as an expression of balance. What makes his work outstanding and engaging is his successful combination of this reconciliation with a painterly atmosphere of dynamism and vibrancy.
Many of his compositions are dominated by an emphatic horizontality or verticality. With this salient characteristic, we may be prompted to recall Piet Mondrian and his commitment to the resolution of these two visual opposites, but Jiang's vision does not have the Mondrianesque rigidity. Instead, Jiang's linear construction is organic and gestural and imbued with energy. His forms sometimes resemble bamboo segments, scales, and lozenge-like forms, but nothing recognizable emerges.
Longer examination and consideration by the viewer will reveal underlying patterns. Here, again, we can appreciate the intricate construction of his canvases. What he achieves is not a dizzying optical effect, but a subtle, relaxed emergence of another visual layer beneath the glossy surface mosaic of flowing fragments.
The tension created by his geometric frameworks is dissipated by the softness of intervening forms and by the gentle bath of delicate colour blends surrounding jewel tones. Indeed, Jiang is a master colourist in the tradition of Henri Matisse. His saturated palette and handling of gradations are an emotional journey in their own right.
The harmony that Jiang strives for resonates in his compositions. While he deliberately avoids representation, we can still find evidence of organic forms in his works. This incorporation attaches his abstraction to our world. In that sense, it is very different from the nonrepresentational, subjective experiments of Western abstraction. The painter Wu Guanzhong summed up this difference with a charming analogy in reference to his own abstract tendencies: "I believe that nonobjective art is like a kite with a broken string. The string that connects the kite to life has been severed; that which links it to emotion and to the karma of the world is broken off….I shall always prefer my kite to a kite with a broken string." The emotion and karma Wu speaks of are alive and well in Art Documents, and they place Jiang firmly in the tradition of the great Chinese abstractionists.
Tally Beck, Beijing
July, 2007
-------------------------
| | |
| --- | --- |
| 1975                   | Born in Shanghai |
| 2001  | Graduated from the Department of Oil Painting, College of Fine Arts, Shanghai University |
| 2006 | Red Gate Gallery Residency Program |
| Present                 | Lives and works in Shanghai |
Solo Exhibitions
| | |
| --- | --- |
| 2012                 | Memory by Li Xiaofeng, The Opposite House, Beijing |
| 2011 | New Haven, Studio Rouge, Shanghai |
| 2007 | Vortex, Studio Rouge, Shanghai |
|   | Art Document, 798 / Red Gate Gallery |
| 2006 | Shanghai Rhapsody, Studio Rouge, Shanghai |
| 2005 | Subconsciously, Studio Rouge |
| 2004                     | Subconsciousness, Dianbo Gallery, Shanghai |
Group Exhibitions
2017                   

Red Gate on the Move, Red Gate Gallery, Beijing

2016

At Sea 70 – Young Artist Exhibition, China Art Museum, Shanghai

 

My Living Roon - Red Gate Gallery 25th Anniversary, Red Gate Gallery, Beijing

2015

Art Central Art Fair, Hong Kong

2014

Art 021 Art Fair, Shanghai

2012

Two Generations - 20 Years of Chinese Contemporary Art 2012 Australian Tour: City of Sydney Chinese New Year; Manning Regional Gallery; Damien Minton Gallery; University of Newcastle Gallery; Melbourne International Fine Arts (MiFA); Linton & Kay, Perth

2011

20 Years - Two Generations of Artists at Red Gate, Island6 Art Center, Shanghai

 

20 Years - Two Generations of Artists at Red Gate, Red Gate Gallery

Red Gate Launch Pad – Celebrating 10 Years of Artists in Residence,

 Red Gate Gallery, Beijing

2010

Art Fair HK10, Hongkong

2009

China Form, Red Gate Gallery

2008

Art Asia, Miami

 

Asian contemporary Art Fair, New York

 

Red Gate Stars, Red Gate Gallery

 

Different Perspectives, 798 / Red Gate Gallery

2007

Asian Contemporary Art Fair, Pier 92, New York

 

Altered States, Red Gate Gallery

 

Young Artists of Excellence, Xu Hui Art Museum, Shanghai

2006

 

2006 New Shanghai: Yong Artists' Exhibition,  Duolun Museum of Modern Art, Shanghai

Color Your Life, Six Artists Exhibition, The Tolman Collection, Tokyo

2005

ROUGE, Studio Rouge

 

Shanghai Shanghai, Studio Rouge

 

Black on White, Studio Rouge

 

8 Faces, Zhu Qizhan Art Museum, Shanghai

2004

China's New Vision: Young Chinese Contemporary

 

Artists' Showcase, Shanghai CITIC Pacific Arts Plaza

 

Shanghai Spring Art Salon, Shanghaimart

 

Shanghai CITIC Pacific Arts Plaza

 

Shanghai Abstract Art, Mingyuan Art       Center

2003

Shanghai Spring Art Salon, Shanghai Everbright Convention & Exhibition Center

 

Shanghai 7th Art Expo, Shanghaimart

2002

Celebrating the 80th Anniversary of the Foundation of the Chinese

 

Communist Party, Shanghai Art Museum

2001                    

Shanghai Art Exhibition, Shanghai Art Museum

 

Shanghai Fine Art Exhibition 2001, Shanghai Art Museum
-------------------------
The original inspiration for my abstract work came from the Chinese ferula. When I saw those decomposed, ancient Chinese characters carved on the ferula, my thoughts and feelings about plants, life, history, culture, time, agony and so on all compounded in my being. And then in a short time, I expressed my feelings through brushwork that referred to the structure of the cell.
Jiang Weitao
-------------------------