Nong Shaohua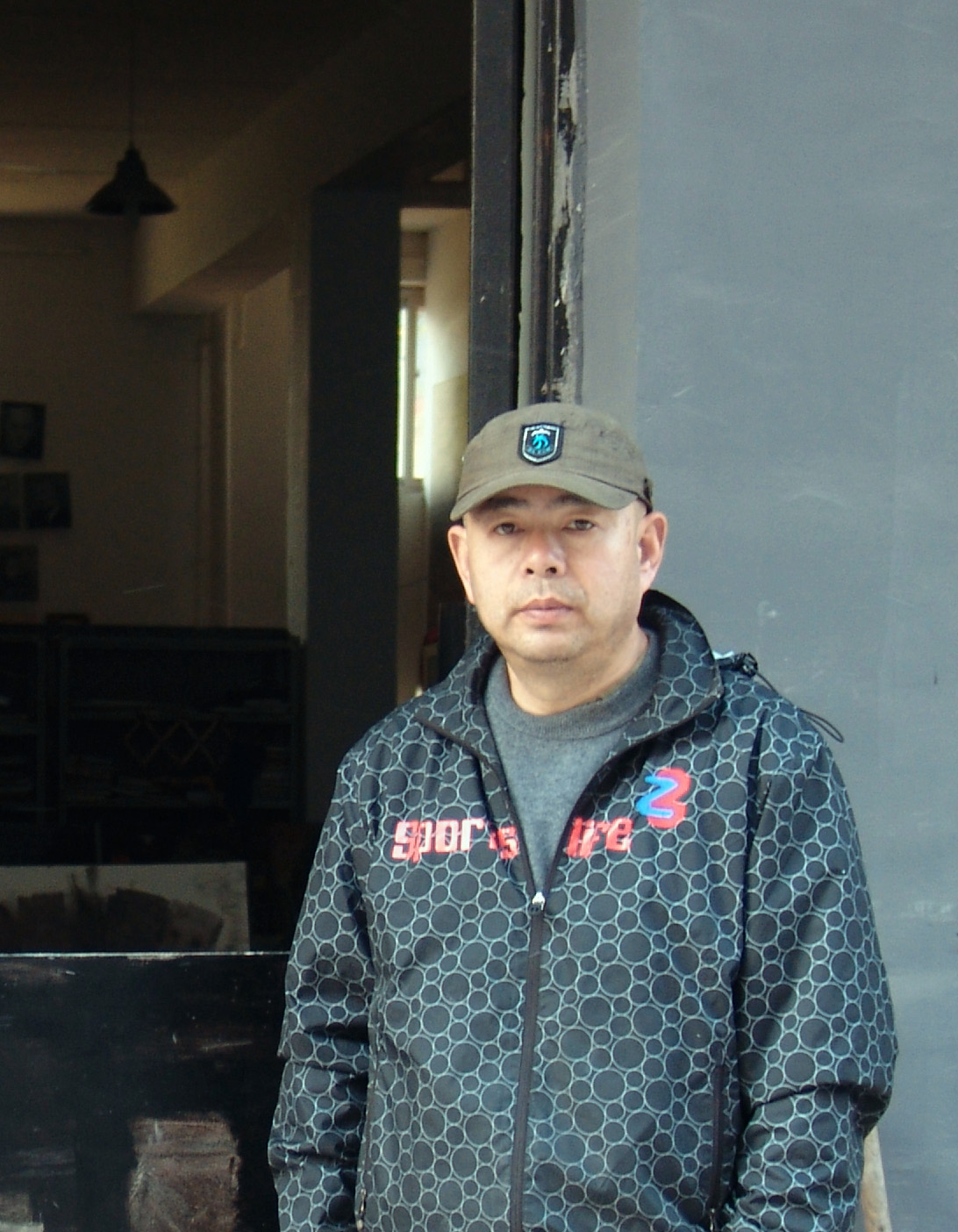 Before moving to Songzhuang, Beijing and settling in a studio in 2010, Nong Shaohua had several jobs in Shanxi Province, where he was born and grew up. Nong worked maintaining boilers and cleaning trains and never engaged in any formal academic art study. Instead Nong explored his own way of painting. Decrepit bikes, leave covered country roads, a voyeuristic man leaning against a wall, a chicken wandering on a roof… Nong's unique and free organization of these ordinary, seemingly insignificant aspects of his paintings reveal to us the indeterminate plot, subtle symbols, and humorous irony that marks his work.
Nong Shaohua says his inspiration comes mainly from meditating, and that he is also influenced by the random and accidental in everyday life. He also draws some influences from film.  On looking at his paintings it is clear that he intentionally avoids presenting a clear cultural identity, and similarly avoids topics linked to current events and happenings. This is clear from the ways in which Nong often obscures the individuality of the characters in his paintings, as well as their social status, cultural backgrounds and even genders. He ultimately creates his own worlds within his paintings, one which is fantastical in its detachment from the real world. His canvases are not marked by some traditional Chinese painting style, nor are they comfortably viewed and understood with reference to Western, or ancient, or even contemporary artistic techniques and subjects. For example, his paintings are often not constrained by traditional rules of perspective.
In all of this Nong Shaohua is able to present a surreal and dreamlike world, both in form, technique, and subject. Nong hopes that his paintings are accessible and that no matter where his audiences come from and regardless of their cultural background they are able to read the stories he presents, become lost in their plots, and feel their varied emotions, from depression and sadness to happiness and cheerfulness.
Reference: Daily Fantasy: Nong Shaohua and His Art by Chen Honghan
1960

Born in Shanxi Province

Present:

Living and working in Beijing

 

Solo Exhibitions

 

 

 

2016

Montage of the Mind, Red Gate Gallery

2014

Scent of a Poppy, Xi Space, Beijing

 

Golden Years, ART Gallery, Beijing

2013

Daily Koan - Nong Shaohua Oil Painting, Abstract Art Gallery, Beijing

2012

Reunion, 110 Art Space, Beijing

Debris and Memories, MN Space, Beijing

 

Group Exhibitions

 

2017

Red Gate on the Move, Red Gate Gallery, Beijing

2016

Discards and Implements -- the Presentation of Individual Spirit, Dahe Bay Art Museum, Beijing

 

Second Independent Character Nomination Exhibition, Dahe Bay Award, Dahe Bay Art Museum, Beijing

 

2006 – 2016 Songzhuang Museum of Art 10th Anniversary Special Exhibition, Songzhuang Art Museum, Beijing

 

Secret Garden International Art Exhibition, Contemporary Art Museum, Beijing

 

All Rivers Run into the Sea, Songzhuang Art Center, Beijing

 

Third Back North, Beijing

 

My Living Room - Red Gate Gallery 25th Anniversary, Red Gate Gallery, Beijing

 

SPLURGE!, Red Gate Gallery, Beijing

2015

He for Her, Ginkgo Space, Beijing

Captain Nong Shaohua and Jia Bei, Dahewai Art Museum, Beijing

Chinese Contemporary Artists, Hokkaido, Japan

Between Cold and Warmth, Milky Way Space, Beijing

Under the Surface, SZ Space, Beijing

Art is Borderless, Sunshine Museum, Beijing

2014

Acknowledged: Gained and Felt, Chengming Wanhe Museum, Beijing

 

Old Nong and Jiabei, 3138 Ku A Space, Beijing

Nanjing International Art Fair, Nanjing, China