Su Xinping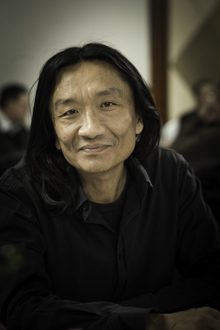 1960
Born in Jining, Inner Mongolia
1977-79
Army Service
1983
Graduated from Tianjin Institute of Fine Arts, majored in Painting and Printmaking
Instructor, Dept. of Fine Arts of Inner Mongolia Teachers College
1989
Graduated from the Central Academy of Fine Arts (CAFA), Beijing,
Masters Degree in Printmaking
1998
Freeman Fellowship and Residency, Vermont Studio Center, USA
Workshops at Elam School of Fine Arts, Wanganui Polytechnic, Dunedin
1999
Polytechnic School of Fine Arts, School of Art Lithography
Lectured at Dunedin Public Art Gallery, New Zealand
Present
Deputy Professor, Deputy Head of Printmaking, CAFA
 
Solo Exhibitions
2014
"Su Xinping: From Surrealism to Automaticism", Museum of Luxun Academy of Fine Arts, Shenyang, China
2013 
 "A Practitioner is Limitless - Works on Paper by Su Xinping", Nan Fung International
Convention&Exhibiton Center & HuaYi Gallery, Guangzhou, China
"Walking Swiftly - Su Xinping Solo Exhibition", Meilun Art Gallery, Changsha, China
 "Pending- Su Xinping Solo Exhibition", Today Art Museum, Beijing, China
 "Pending- Su Xinping Solo Exhibition", The Art Museum of Nanjing University of the Arts, Nanjing, China
2009
Toasting, Red Mansion Foundation, London
2008
Toasting, Xin Beijing Art Gallery, Beijing
Toasting, China Square Gallery, New York
Toasting, Dolores De Sierra Gallery, Madrid
Toasting - works by Su Xinping (2005 - 2008), He Xiangning Art Museum
2007
Landscapes, Today Art Museum, Beijing
2006
Su Xinping, Singapore Tyler Print Institute
2005
Su Xinping, Red Gate Gallery
Su Xinping Portrait Works, National Art Museum of China
2002
Paintings by Su Xinping, Ling Nan Museum, Guangzhou
Su Xinping, Portland Art Gallery, Cleveland, USA
2001
Flanders Contemporary Art Gallery
2000
Outer Appearance and Inner Mindscape, Soobin Art Gallery, Singapore
Inner Spirit, Red Gate Gallery
1999
Untitled, Dunedin Public Art Gallery, New Zealand
Lithographs, Dunedin Community Art Gallery, New Zealand
Hope: Recent Paintings, Flanders Contemporary Art Gallery Minneapolis
Su Xinping Works, 3.14 Gallery, Oslo, Norway
Su Xinping Printing, Wallace Arts Trust, Auckland; Community Art Museum, New Zealand
1998
Comrade Series, Red Gate Gallery
Recent Lithographs, Exhibition, Workshop and Lecture, LASALLE-SIA College of the Arts, Singapore
Mongolia in Transition, White Lotus Gallery, Oregon, USA
1997
Sea of Desires, Red Gate Gallery
Su Xinping, Chinese Contemporary, London
Mamalieres, Museum of Contemporary Art, Paris
1996
A Decade of Printmaking, Red Gate Gallery
1995
Recent Lithographs, Red Gate Gallery
LKF, Hong Kong
Fire Station Gallery, Sydney
Kiang Gallery, Atlanta
1994
Seton Hall University, New Jersey
1993
Fire Station Gallery
Kiang Gallery, Atlanta
Su Xinping, Red Gate Gallery
Su Xinping, Yellow River Gallery, New York
1992
Su Xinping, NAMOC
Su Xinping, Red Gate Gallery
1991
Su Xinping Lithographs, Shanghai Art Museum
1990
Su Xinping at Gallery 13, Hong Kong
 
Group Exhibitions
2014
"Master Mould and Copy Room", CAFA Art Museum, Beijing, China
"Future Returns: Contemporary Art from China", Eli and Edythe Broad Art Museum at
Michigan State University , East Lansing, U.S.A
"Chinese New Expressionism: Special Invitation Exhibition 1980-2014", China Art Museum,
Shanghai, China  
"The 2nd CAFAM Biennale - The Invisible Hand: Curating as Gesture ", CAFA Art Museum,
Beijing, China   
2013
"Vitality - Su Xinping, Li Jin, Song Yongping Works Exhibition", Tianjin Academy of Fine
Arts Art Museum, Tianjin, China
"ART SANYA 2013: Encounters - International Contemporary Art Exhibition" HUAYU
Resort  & Spa Yalong Bay Sanya, Hainan, China
"Portrait of the Times: 30 Years of Chinese Contemporary Art", Power Station of Art,
Shanghai, China
2012
Two Generations – 20 Years of Chinese Contemporary Art, 2012 Australian Tour: City of Sydney Chinese New Year; Manning Regional Gallery; Damien Minton Gallery; University of Newcastle Gallery; Melbourne International Fine Arts (MiFA); Linton & Kay, Perth
2011
20 Years – Two Generations of Artists at Red Gate, island6 Art Center, Shanghai
20 Years – Two Generations of Artists at Red Gate, Red Gate Gallery
2010
Asian Art Biennale, Bengal
2009
Evidence, AYE Gallery, Beijing
Yi Pai – Century Thinking, Today Art Museum, Beijing
First Contemporary China Engraving Academic Exhibition, Today Art Museum
Chengdu Biennale, Chengdu.
2008
Shanghai Biennale, Shanghai
Red Gate Stars, Red Gate Gallery
2006
China Today Art Exhibition, NAMOC
Red Gate Gallery 15th Anniversary
2005
11th India International Triennial, India
Wall – Chinese Contemporary Art, Beijing Millennium Art Museum;
UB Anderson Gallery, Albright-Knox Art Gallery, New York
2004
Cinesi – Artisti Fra tradizione e Presente, Italy
2003
New Generation and Post – Revolution, China Blue Gallery, Beijing
An Opening Era – 40th Anniversary of the Founding of CAFA, CAFA
Chinese Art Today, China Millennium Monument Art Museum, Beijing
1st Beijing International Art Biennale, NAMOC, Beijing
2002
Guangzhou Chinese Artists Triennial, Guangzhou Art Museum
2001
China Art Now!, Singapore Art Museum
Clues to the Future – Red Gate Gallery's 10th Anniversary
1st Chengdu Biennale, Chengdu Contemporary Art Museum
2000
Inside Out: New Chinese Art, National Gallery of Australia, Canberra; Hong Kong Museum
1999
Urban Yearnings: Portraits of Contemporary China by Liu Qinghe, Su Xinping and Zhang Yajie, Chinese Culture Center, San Francisco
Inside Out: New Chinese Art, San Francisco Museum of Modern Art
China 1999, Limn Gallery, San Francisco
Square Studio, Konrad Adenauer Foundation Center, Bonn, Germany
Square Studio, Shenzhen Art Museum
Tree of Life, Qingping Gallery, Boston
1998
In & Out Contemporary Chinese Art from China and Australia, Plimsoll Gallery, Tasmania School of the Arts, Hobart
Faces and Bodies of the Middle Kingdom, Galerie Otso, Espoo, Finland
Eastern Approaches, Brunel University, UK
Inside Out: New Chinese Art, Asia Society Galleries, New York
Retake: A Selection Reviewing Red Gate Artists' Signature Works, Curated by Carolyn Fitzpatrick, Red Gate Gallery
Political Pop Art Works from China, Max Protetch Gallery, New York
1st Exhibition of Square Studio, International Art Palace Gallery, Beijing
Chinese in Verduno City, Art Inside the Castle, Italy
Chinese New Art, Asian Association Museum, New York; PSI Museum, New York
1997
Three Printmakers from CAFA, Red Gate Gallery
World Prints Exhibition, Portland Art Museum, Oregon
In & Out – Contemporary Chinese Art of the Mainland & Diaspora, Australia
Faces and Bodies of the Middle Kingdom, Galerie Rudolfinum, Prague
New Art from China, Flanders Gallery, San Francisco
World Triennial of Prints, Paris
New Art from China, Marco Polo Gallery, USA
4thTriennale Mondiale d' Estampes Petit Format, Chamalieres, Auvergne France
8th International Biennial Print & Drawing, Taipei Fine Arts Museum
In & Out Contemporary Chinese Art from China & Australia, RMIT Gallery, Melbourne; Sydney College of the Arts, Sydney, Australia
1996
People's Progress – 20th Century Chinese Woodcuts, Art Gallery of New South Wales, Australia
Contemporary Chinese Prints, Portland Art Museum
Asia Print Art Festival, Pusan Cultural Centre, Korea
1995
Chinese Avant – Garde, Art Museum of Gothenburg, Sweden
Chinese Contemporary Art, Meridian Gallery, Australia
1993
Painter's Den, International Art Palace Gallery
6th International Biennial of Prints and Drawing in Taiwan, Taipei Fine Arts Museum
Nominating Exhibition, UNESCO, International Art Palace
Taiwan International Invitational Exhibition of Prints, Kanagawa, Japan
1992
Modern Chinese Prints, Rome
1991
Sapporo International Print Biennial Exhibition, Sapporo, Japan
World Triennial of Small Prints, Museum of Modern Art, France
Osaka International Prints Triennial Exhibition, Osaka, Japan
1990
New Works by New Chinese Artists, NAMOC
Prints from Four Asian Countries, Chiba Art Gallery, Japan
1989
China Avant-Garde, NAMOC
Modern Chinese Prints, Shanghai Art Gallery
 
Awards
2005
Singapore Tyler Print Institute – Visiting Artists Program
1998
Scholarship for Vermont Artists – In-Residency, USA
1994
Excellence Prize, China Art Expo, Guangzhou
Excellence Prize, Shenzhen Art Expo
Silver Medal, 12th National Exhibition of Prints, Guangzhou
1993
Nominated as candidate for UNESCO Award for the Promotion of Arts
1992
Excellence Prize, 20th Century – China Exhibition, NAMOC
1991
Outstanding Prize, Beijing – Taipei Exhibition of Contemporary Prints, CAFA
Excellence Prize, World Triennial of Small Prints, Museum of Modern
Art, France
1989
Bronze Medal, 11th National Exhibition of Prints, CAFA
My recent work is about two themes – the urban landscape series and the toasting series. In the urban landscape series I want to express the impact of urbanisation on people. In the toasting series I use irony to reveal issues of city life and the interaction of people – particularly in business and politics.