Zhang Zhaohui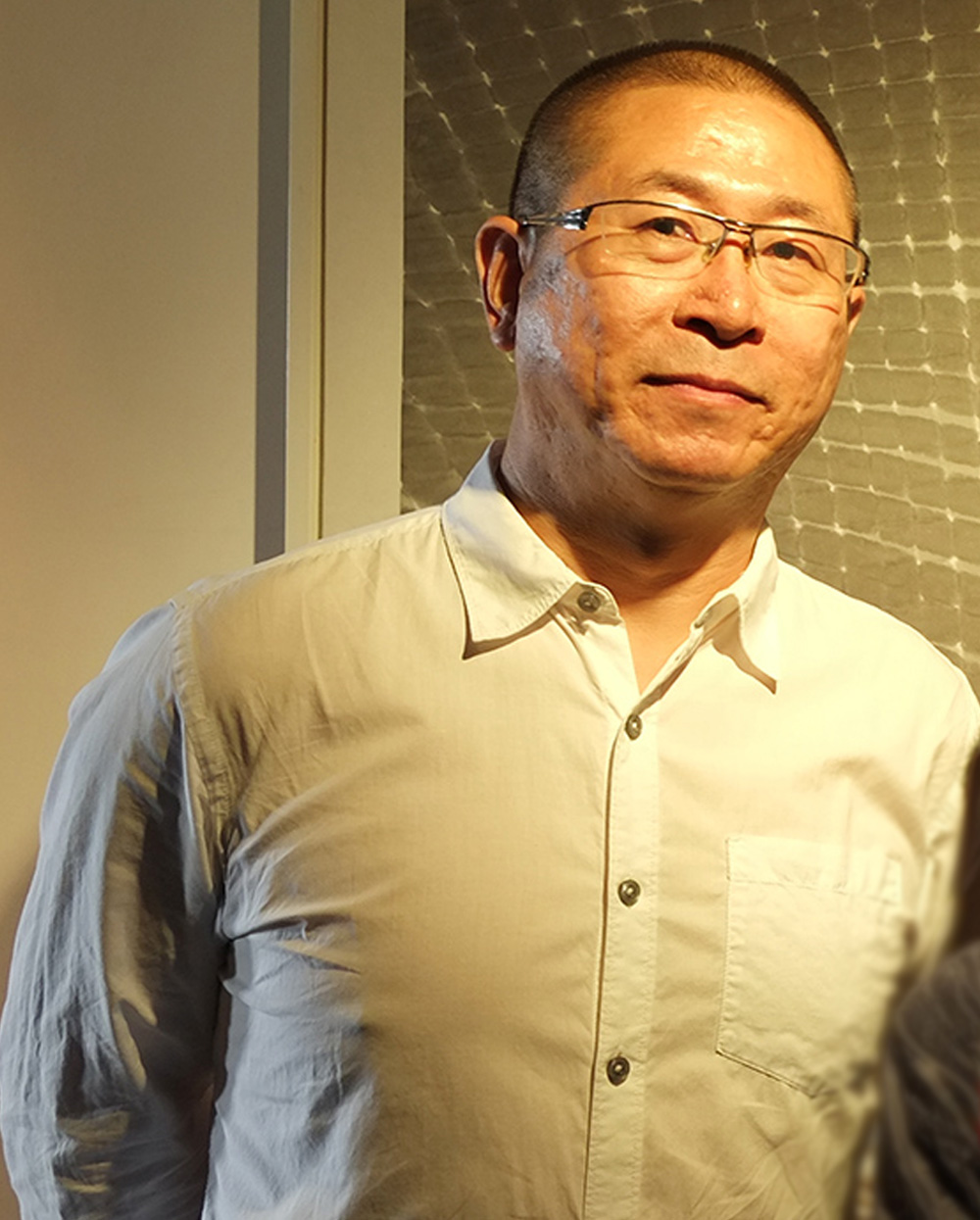 Widely hailed as a "dark horse", Zhang Zhaohui has come to the fore in the realm of ink art in recent years. His work doesn't seem to have much to do with traditional or popular ink art.  Zhang seems very stubborn when it comes to dealing with ink lines.  He arranges the lines one by one, very meticulously. And by marking ingenious use of the fortuitousness caused by the blending of water and ink, he manages to imbue this mechanical and somewhat indifferent way of working with a peculiarly mesmerizing glamour.  What's unique about his practice is that he makes a change to the unapproachable nature of Op art through ink brush, transcending the general perception that abstract art is either "cold" or 'hot". In other words, by integrating the lines of rationality and glory of sensibility, he manages to present a third state of abstract.
 by Pin Jie
Zhang Zhaohui's Light Infinity series opens our visible consciousness to a type of abstract visual vibration, elegantly mannered and focused on central imagery. His grids buckle, twist and turn through space, directing our eye toward a central source of light. Inevitably, Zhang's ink paintings rest on his expertise in constructing optical forms through linear patterns that suggest "infinity" insofar as these grids might open new doors to perception.  His work focuses on the geometric in contrast to the intuitive. His method is cohesive and resilient in alluding to a type of pure optical engagement. In doing so, viewers are able to capture and distill Zhang'a optical nuances in terms of a personal vision, or as a reflective network of isolated phenomena occurring simultaneously within the eye and mind, what some might regard as a collision between seeing and thinking.
by Robert C. Morgan
| | |
| --- | --- |
| 1965 | Born in Beijing |
| 1988 | Graduated from Nankai University, Tianjin, Museum Studies in Art History |
| 1992 | Graduated from China Art Academy, Beijing, MA |
| 1998 | Graduated from Bard College, Curatorial Studies in Contemporary Art, New York, MA degree |
| 2003 - 2006 | Central Academy of Fine Arts, Contemporary Art and Culture, Ph.D. Program, Beijing |
| Present: | Lecturer in the Chinese Painting Department of Sichuan Fine Arts Institute |
Solo Exhibitions

 

2014             

The Threads That Connect Us: Zhang Zhaohui Ink Painting, Red Gate Gallery, Beijing

 

 

Abstract Ink Painting Exhibition, Tenpo Art Center, Taipei

 

 

Mountains and waters, Fukuoka Asian Art Museum, Japan

Ink Light, Peninsula Hotel Beijing, Beijing

 

2013

Light Infinity, Design Art Space, Beijing

 

 

Dao of Nature, Hakkokai Gallery, Beijing

 

2012

One and Mass, Light and Time Art Center, Beijing

 

2011

Origin of Time, Ink Painting Art Museum, Shanghai

 

1988          

 Library of Nankai University

 
Group Exhibitions
2014             

2th Biennale China-Italia, 798 Art Factory, Beijing

 

 

International Contemporary Art Exhibition, Art Museum of Nanjing University of Arts, Nanjing

 

 

Nanjing International Art Festival, Nanjing International Expo Center, Nanjing

 

 

Flowing Ink Art: Chinese Ink Art Painting Biennial, Time Art Museum, Beijing

 

 

Invitational Exhibition of Contemporary Chinese Abstract Art, Today Art Museum, Beijing

 

2013

The Great Wall Art Festival, Beijing

 

 

New Beijing Genre of Art Festival, Wenda Gallery, Beijing

 

 

Nord Art Festival, Kunstwerk Carlshütte Büdelsdorf, Germany

 

 

Five Feelings, COART Festival, Lijiang, China

 

 

Because: Mountain, Imagine Gallery, Beijing

 

2012

Serene Scent: New Ink Painting, Red Gate Gallery, Beijing

 

 

1st Milan Biennale  of Sino - Italian Art, Milan

 

Ink Painting from China, Kyoto Art Museum, Japan

 

Documentaries of Chinese Performance Art 2012, Macao Museum of Art

 

Linzhou Ink Painting, Linzhou Art Museum

 

Narcissus Beyond the Myth, Being 3 Gallery, Beijing

 

New Chinese Currency, Ethan Cohan Fine Art, New York

 

Take Out, Varley Gallery of Art, Toronto

 

Ink Painting Biennale, Dafen Art Museum, Shenzhen

 

Mind Natural, DYJ Lifestyle Gallery, Beijing

2011

Ink - Brush Painting from China, Miami Art Fair, USA

 

Ink - Painting No.1, Duolun Art Museum, Shanghai

 

10th Ink Painting Artist Story, Duolun Art Museum, Shanghai

 

10th Pucheon International Performance Festival, Seoul

2010

New Media Art Festival 798, Beijing

 

Nord Art Festival, Kunstwerk Carlshütte Büdelsdorf, Germany

2009

Fantasy, Sunshine Art Center, Beijing

 

360 Degree Studio Rouge, Shanghai

 

60-70-80 Chinese Contemporary Art Chateau de Tours, France

 

Erotic Make Shangdong Oil-painting Gallery, Jinan

 

You & Me, Joey Chang Art, Beijing

 

Water & Color, Today's Art Museum, Beijing

2004

Manufactured Happiness, UTS Art Museum, Syndey

2003

Bare Androgyny, 798 Art Compound, Beijing

2002

New Urbanism, Guangdong Art Museum, Guangzhou

2001

0'C Project, Bridge Art Center, Beijing

1998

Where Heaven and Earth Meet, Bard College, Hessel Art Museum, New York

1992          

Group show of artists affiliated to Cultural Administration, National History Museum, Beijing
Fellowship and Grants
2004             

1998

1996   

 

 

Asia Link

Curatorial Studies

Library of Nankai University

 

 
The components that go into traditional ink paintings are, it seems, the raw materials for artistic development, whether spiritual, aesthetic, or technical. Traditional ink painting combines these elements using established methods and formats to produce the various categories of "traditional Chinese painting" such as gongbi paintings, xieyi paintings, figural paintings, flower and bird paintings, and landscape paintings. To meet the needs of self-expression, today's artist can choose freely from these raw materials and selectively ignore the specifications and formats of traditional Chinese painting, and the selected elements will provide the materials for creative ink painting. These selected traditional materials, when combined, refined, transformed, and condensed using the concepts and methods of contemporary international art,acquire autonomy against the background of contemporary art; these ink painting materials now made aware and integrated through the artist's spirit and philosophy work become the artistic medium for relaying information about contemporary society, and the ink painting itself acquires development and reconstructs sequencing, ushering ink into the context of contemporary art.
 The use of line in ink and brush painting is the basic method in "traditional Chinese painting", embodying the delicate and refined aesthetic for working with brush and ink. The line in traditional Chinese painting serves to delineate the image and it lacks independent aesthetic value. In all ink language systems,I extract a line and render it pure and abstract, rejecting any functions related to reproduction and expression while fully using the softness and pliancy of the brush to reorganize the lines of differing texture, definition, density, and concentration into a picture in ink and to flesh out the rational sense of order in the lines so that they acquire new artistic life. At the same time as retaining classic inktraditions at the center of the work, I draw on concepts and methods of abstract art, opart, and minimalist art, and while preserving the purity of the basic language of ink I attempt to construct an ink painting of a new look that establishes a conversation with a globalized aesthetic consciousness.
The Chinese people have been embroiled in the complex relationships between West and East and between modernity and tradition for a century. In today's context, these are no longer issues, especially in the practice of art. I can freely draw on any spiritual sustenance I want, unimpeded by form, to transform ink from traditional Chinese painting into florid contemporary art.
Zhang Zhaohui, Summer 2014