Li Xiaofeng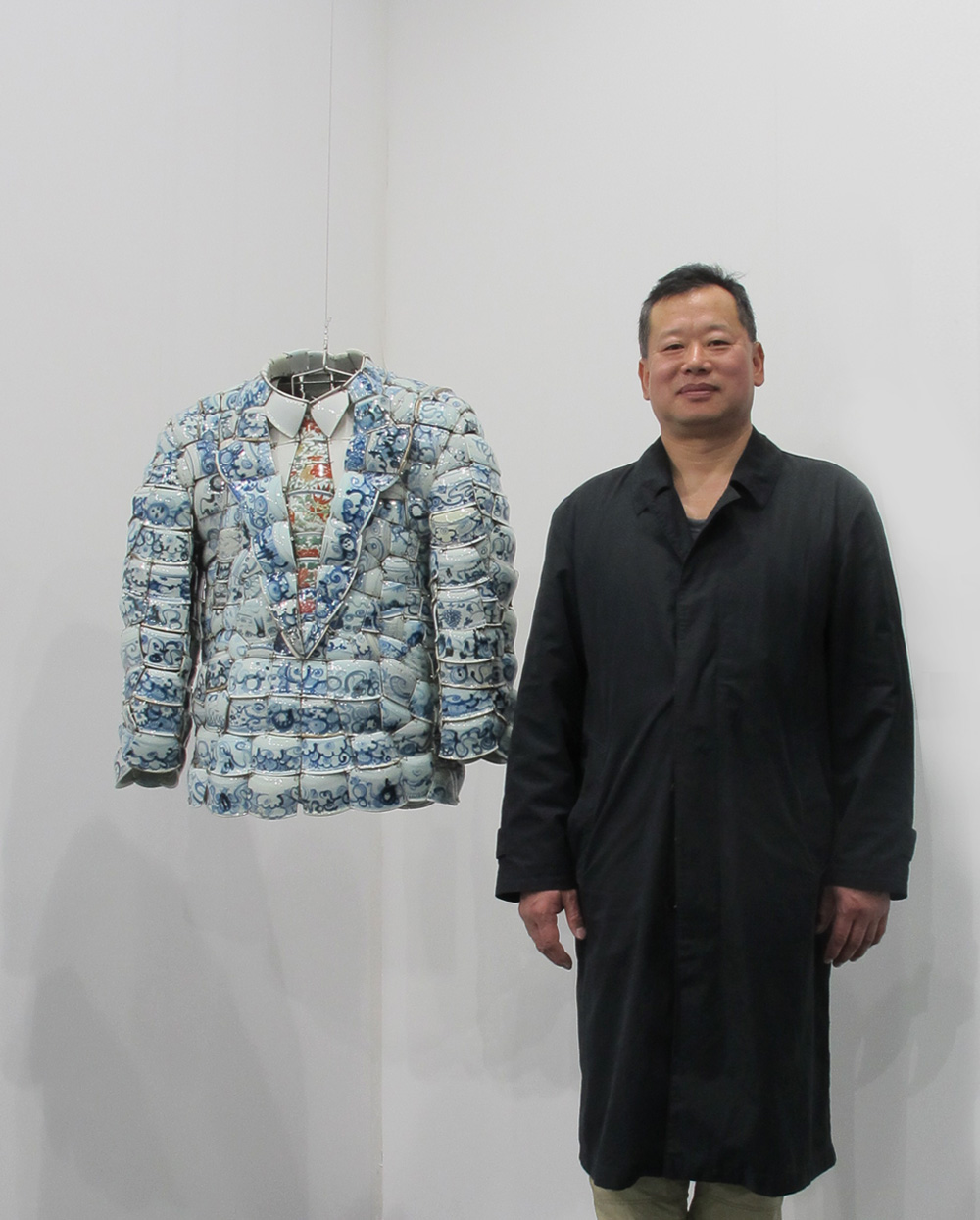 -------------------------
Red Gate Gallery participates in 2013 ART021
Venue: The Rockbund – NIB Building, Shanghai
Exhibition Dates: November 28 - December 1, 2013
Press Release:
About Li Xiaofeng's Artworks 
Considered one of the most original artists in China, Li Xiaofeng (b. 1965) is known for his unique use of porcelain shards.
Tang Zehui
Li makes wearable porcelain costume and installation from ceramic shards coming from the Song, Ming, Yuan and Qing dynasties, which are sewn together on a leather undergarment. Some of his projects include a suit jacket and tie as well as a number of mid-length women's dresses.
Tang Zehui (Curator)
November 1, 2013
at the Red Gate Gallery
-------------------------
Fragments Connecting Cultures
Like all other chinese artists, Li Xiaofeng took a long and striving road of study and artistic practice. After graduating from Hubei Huanggang Normal College in last century, he came all the way to pursue further studies in Central Academy of Fine Arts and completed graduate courses in 2002.  Then, Just like all the others persistently going in for art, Li chose to stay in Beijing, over the away - flying years.
 However, Li Xiaofeng also spent as much the same time completely bresking away from the tie of academic art that he once diligently sought for, and cautiously keeping some certain distance from all the current trends of arts, which has been proved to be an entirely necessary and wise decision as an artist. It surely requires courage and preparation of cost for the tenacity. It seemed that Li Xiaofeng stayed a little bit marginalized, whick yet was able to be pregnant with regenerative force all the time.
 We are clearly aware of that " Chinese culture" is the basic breakthrough point in Li's works. It has been thought of a difficulty when it comes to culture, Li Xiaofeng,  however, has such a sense of mission for it, and the finds it a theoretic basis with beautiful name "Post Orientalism". Chinese landscape was always a major theme in his large number of paintings created in past. instead of simply copying, like some other contemporary artists, the landscape  in his creation has been melt into heart and then rearranged, thus his works are so unique that we can taste the modern flavor of poetic deram and super realism.
Li Xiaofeng's recent installations are of so much charm. He chooses the real fragments of Ming - Qing blue - white porcelain as materials in his works for he has been obsessed in the research and collection of ancient porcelain over years.
Shen Jingdong
That makes his works smooth rather than meticulous, like and old monk mending his robe of patches or and ancient artiste making a jade dress. The process during which the polished fragments are linked together in series with silver thread through the cut holes is an artistic behavior itself, which reminds me of a short description of being a little goldfish in One Hundred Years of Solitude by Marx, that process maintaining certain meaningless significance like one's life.
 Li Xiaofeng kept indoors for three months, but finally he got a completely new appraisal: when hundreds of porcelain fragments are arranged in complete order on one garment, we even seem to read the information code left by our forefathers; while this modern garment made by arts of those dug up ancient porcelain fragments from long silent earth reflect today's sunshine, even people with little literacy are likely to have thoughts flooding in their mind: fragments or clothes?--- It is undoubtedly a conversation beween the past and today. I suppose that garment is merely a pretence or plea of the work, but the true meaning that is intended to convey is culture, which is a populous concept nowadays.
Shen Jingdong (Artist)
August 12, 2006
-------------------------
 1965                  Born in Hubei City
| | |
| --- | --- |
| 2002 | Graduated from Mural Department of Central Academy of Fine Arts |
|   |   |
Solo Exhibitions
2014                    Li Xiaofeng Installation Art Exhibition, Kwun Tong, Beijing
2012                    Memory by Li Xiaofeng, The Opposite House, Beijing
Group Exhbitions
| | |
| --- | --- |
| 2017 | Red Gate on the Move, Red Gate Gallery, Beijing |
|   | Contemporary Dialogues Between Fashion and Art, Zhu Zhong Art Museum |
|   | The Silk Road and Celestial Clothes, Taimiao Art Museum |
|   | Fusion – The International Exhibition of Contemporary Ceramic Art, Art Museum of Nanjing University of the Arts, Nanjing |
| 2016 | Red Gate: The Next 25 Years, Red Gate Gallery |
| 2015 | China: Through the Looking Glass,The Metropolitan Museum of Art, USA |
| 2014 | 5th Tanwan Ceramics Biennale, Taipei County Yingge Ceramics Museum, Tanwan |
|   | ST. Start International exhibition of the Chinese Contemporary Ceramic Art, Today Art Museum, Beijing |
| 2013 | 7th Gyeonggi International Ceramic Biennale 2013 Korea, Icheon CeraMIX Creative Center, Korea |
| 2011 | Ming to Nirvana, Red Gate Gallery, Beijing |
| 2010 | Head On, Red Gate Gallery, Beijing |
|   | Width Contemporary Art Exhibition, Museum of Contemporary Art, Beijing |
| 2008 | Virginia Miller Gallery, Miami |
|   | Asian Contemporary Art Fair, New York |
| 2006 | Sculpture, Pickled Art Centre |
|   | Consumption Times I, Ha Te Art Centre |
| 2005 | Diversity and Construction, Beijing |
| 2004 | X Yard, Beijing |
|   | Beijing International Art Camp |
| 2002 | CAFA Graduates' Exhibition |
Special Exhibition
| | |
| --- | --- |
| 2010 | Lacoste Women's Polo Sculpture Launch, Yi Hotel, Beijing |
| 2010 | Lacoste Man's Polo Sculpture Launch, Musee Des Arts et Metiers, Paris |
Collection
Lacoste, Paris, Louis Vuitton, Shanghai, The Opposite House, Beijing, Private Collection in China and Overseas
-------------------------
The In juries of a Thousand Years
in  "China: Through the Looking Glass" at the Metropolitan Museum of Art
Li Xiaofeng's creative notes:
Since the time when it was the Mongol Yuan capital Khanbalik to the present day, Beijing has initiated its largest excavation projects of all time and, like a blue snake that has been hibernating for a millennium, the city is now stirring and shedding its old skin. It greedily emerges through the towering buildings, twisting free from the historical sediment of its ancient civilization. Blue-and-white porcelain shards that represent this civilization are unearthed in large quantities at the same time. These blue shards, bathed in the sunny skies of socialism and caressed by the contemporary cool breezes blowing from the west throughout the capital, assume a bewildering array of postures as fashion items entering the new century! These are the blue-and-white costumes! These emanate the splendor once crushed! These are the illusions flowing with sorrow!
Li Xiaofeng in Beijing, May 1, 2015
Translated by Dr Bruce Gordon Doar